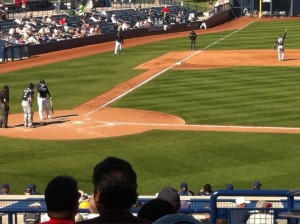 2011 Seattle Mariners
NFL Equivalent – Tampa Bay Buccaneers: This one was a bit of a stretch. About all I could come up with is that the star of each team, Josh Freeman for Tampa Bay and Felix Hernandez for Seattle, have hair styles somewhat similar to Eriq La Salle in Coming to America. This and the owner of the Bucs, Malcolm Glazer, also owns Manchester United of the EPL while the Mariners are owned by Nintendo. So there you have it.  Neither team has had all that much success in recent years, although Tampa Bay did win the Super Bowl in 2002 while Seattle won an MLB best 116 games in 2001.
Google Search: The biggest news out of Safeco this past winter was that the Seattle front office decided not to trade the 2010 Cy Young award winning P Felix Hernandez to the Yankees. Good for the Mariners, and good for baseball. Let New York deal with a rotation of Bartolo Colon, AJ Burnett, and Freddy Garcia for at least one season.
Famous Movie Quote: "After very careful consideration, sir, I've come to the conclusion that your new defense system sucks." – General Berenger from WarGames.
This quote makes perfect sense when you think about how inept the Seattle Mariners offense was during the 2010 campaign. They were last in the league in runs scored per game at 3.2 and had the 14th highest salary in all of MLB at $86.5 million. Not exactly a lot of bang for your buck, kind of like spending billions on a new missile defense system operated by a large computer called "Whopper". The only question for the 2011 Mariners is, will Ichiro Suzuki, who is now 37 years old, reach 3000 career hits in a Seattle uniform? He's got a long way to go but I wanted to give Mariner fans at least a glimmer of hope. 2011 record: 72-90, 4th in AL West