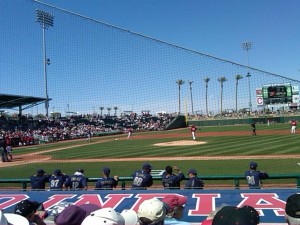 2011 San Diego Padres
NFL Equivalent – Jacksonville Jaguars: I really don't like doing this to Padres fans whose history with their franchise dates way back to 1969, however, in recent years both Petco Park in San Diego and EverBank Field in Jacksonville have become relative ghost towns with swaths of empty seats and eerie echoes cascading off of low expectations and struggling local economies. Sure each team has had their fair share of recent success but, certainly with the case of the Jags, the top story always seems to be if and when the team will relocate to Los Angeles. Now, the Padres, with their new, beautiful stadium, are in no jeopardy of leaving San Diego, but with a very modest payroll the franchise will struggle to keep up with the deeper pockets of San Francisco and LA.
Google Search: It must have been so incredibly disheartening to the San Diego community when the Padres traded their star first baseman to the Boston Red Sox for three highly touted prospects including minor league P Casey Kelley. Gonzalez was born in San Diego and as a Mexican American ballplayer seemed to embody the diverse cultural background of his hometown and sport. With the move to Boston, Gonzalez becomes just the latest in a long line of high powered assassins to join the ranks of the MLB high payroll elites while San Diego must fill the void with the likes of Brad Hawpe and Jorge Cantu.
Famous Movie Quote: Well, I could be wrong, but I believe diversity is an old, old wooden ship that was used during the Civil War era. – Ron Burgundy from Anchorman
Using another Anchorman quote here was predictable I know, but sometimes life and culture is just so blissfully obvious. Diversity, as it applies to the NL West, is alive and well. All five teams have either won the division or made the playoffs at least once in the last ten years. I would expect that trend to continue in future years but in 2011, when the music stops, the San Diego Padres will be left without a chair. 2011 prediction: 74-88, 4th place NL West