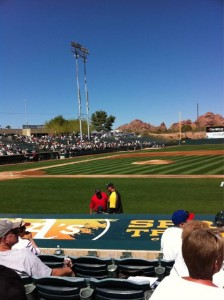 2011 Oakland Athletics
NFL Equivalent – Kansas City Chiefs: Back when I played college baseball, I loathed opposing teams and players that wore white spikes. To me, there was always something pompous about the look, like that player was trying to say that they thought they're better than you. And you know what, players that wear white spikes are usually all flash and no substance. As far as I can tell, the Oakland A's are the only MLB team whose players all wear white spikes.  The Kansas City Chiefs wear white cleats as well, but in the NFL it is not as much of an anomaly.
Google Search: The bay was brimming with activity this winter. The A's signed/traded for solid MLB outfielders Hideki Matsui, Josh Willingham, and David DeJesus. They also added relievers Brian Fuentes and Grant Balfour to their bullpen. On a completely serious note, the club recently announced a fundraiser to take place during their season opening series against Seattle where all proceeds will go towards supporting relief efforts in Japan after the devastating earthquake rocked the country this past weekend.
Famous Movie Quote: Pollution. Crime. Drugs, poverty, disease, hunger, despair – we throw GOBS of money at them and problems only get worse. Why is that? Because money's most powerful ability is to allow bad people to continue doing bad things at the expense of those who don't have it. – Ben Kingsley from Sneakers
The Oakland A's and GM Billy Beane pride themselves on finding innovative ways to stretch the almighty dollar. When you're a small market team, like the A's, you must learn to be creative in order to keep up with the big spenders. I never read Moneyball by Michael Lewis – sacrilegious I know – nor do I have any interest in seeing Brad Pitt strut around as Beane in the movie version this summer. My only hope is that the producers found someone like "Stone Cold" Steve Austin to play the role of the Kevin "The Greek God of Walks" Youkilis. Only then would I pay to see this film. 2011 prediction: 84-78, 2nd place in AL West
view from Phoenix Municipal Stadium courtesy of @djmccormack3