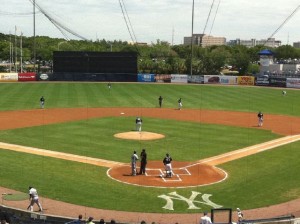 2011 New York Yankees
NFL Equivalent – New England Patriots: Like a surly, disoriented amnesiac, I find myself wondering aloud, "How the heck did I get here?"  At the risk of ceding some of my objectivity, I happen to despise both of these teams.  Beautiful new state-of-the-art stadiums, angry little Napoleonic coaches, rabid fan bases, and poised, dashing gentlemen leaders all link these two uber-successful franchises.  Yeah, that and the billions of dollars of Midwestern shipping and Northeastern foodstuffs money with which the Steinbrenners and Krafts start the fires that burn up their luxury tax bills.  But I'm not bitter.
Google Search: This winter, the Yanks signed SP Cliff—wait, no they didn't!  They landed 1B Adrian—nope!  New York was able to trade for SP Zack—wait, what?!  For once, the Yankees seemed to miss the boat on all of the available big names that were available this off-season.  The one move they did execute was to lure away RP Rafael Soriano from the Rays, for whom he closed brilliantly in 2010.  He will move to the 8th Inning for New York, and act as a very expensive insurance policy for closer Mariano Rivera, who seems to be channeling his inner Benjamin Button.  On offense, the names remain the same.  SS Derek Jeter signed a contract and built a big house.  3B Alex Rodriguez ate some popcorn.
Famous Movie Quote: I'll be back. – Princess Leia, The Empire Strikes Back.
Before Schwarzenegger made the line famous, the cruller-braided Carrie Fisher used the eponym to let everyone know that they hadn't quite seen the last of her.  Fans and analysts that are writing the Evil Empire of the AL East off might want to keep that in mind.  Their bats are ridiculous, highlighted by the best 3-4-5 in all the land in 1B Mark Teixeira, Rodriguez, and 2B Robinson Cano.  Rodriguez, incidentally, has had an absolutely torrential Spring.  Maybe there actually is something about Mary!  The bullpen will be great, especially in the late innings… as usual.  The only question marks that linger are behind the plate and behind SP C.C. Sabathia's still-sizeable frame.  I get the sense that the Pinstripers will be involved in quite a few barnburners this summer.  But will it be enough to hang with the Red Sox?  As Yoda would say, "See, we shall." 2011 record: 95 – 67; 2nd Place AL East