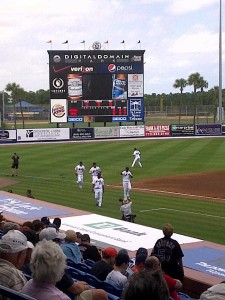 2011 New York Mets
NFL Equivalent – Washington Redskins: At first glance, you're looking at two organizations with histories of success and deep pockets.  Until you open the books and recognize that at the center of this comparison are two organizations with "questionable" business practices.  The Skins threw upwards of $100 million at DT Albert Haynesworth to do virtually nothing except not complete shuttle runs.  The Amazins, on the other hand, did nothing, and somehow were thrown hundreds of millions of dollars from Bernard Madoff.  And only the Mets could possibly top the Haynesworth signing with their history of fiscal irresponsibility.  Tom Seaver, Nolan Ryan, Kevin Mitchell?  Gone.  Vince Coleman, Bobby Bonilla, Mo Vaughn…Oliver Perez?  In you come!  Oh, and both fan bases absolutely loathe their teams' lovely ownership groups.
Google Search: I think my Internets are broken!  According to them, the Mets did absolutely nothing this winter.  That can't possibly be right… can it?  I suppose out of obligation, I should note that they did sign pitchers Chris Young, Chris Capuano, and Taylor Buchholz.  They also acquired a new RF in the guy that is now wearing CF Carlos Beltran's #15 jersey.  Most of the news coming out of Flushing this winter had to do with the ongoing financial scandal involving the Wilpons and public enemy #1. And just today, the New York Times reports that the Mets organization was running low on cash well before this recent lawsuit was filed.
Famous Movie Quote: Right after I got here, I ordered some spaghetti with marinara sauce and I got egg noodles and ketchup. I'm an average nobody. I get to live the rest of my life like a schnook. –Henry Hill, Goodfellas.
What happened to my team!  Like Ray Liotta in Goodfellas, Met fans (and I) have been relegated to the Witness Protection Program.  Even when we were in the prison of the mid 1990s, we were still eating better than this.  A few years ago, when 3B David Wright and SS Jose Reyes were barely formed meteors and SP Johan Santana and CF Beltran were the best in baseball, the sky was the limit.  Back then, we thoughtlessly expected a nice Fettucine Carbonara every night.  Alas, even before we sit down at the table this Spring, we already know that the Wilpons are dishing out the Heinz special.  And when the bill comes, we already know what it will say $25 million and 5 years of open market purgatory. 2011 record: 77 – 85; 4th Place NL East