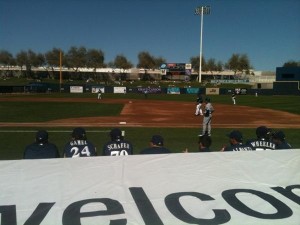 2011 Milwaukee Brewers
NFL Equivalent – Houston Texans: Before recent NFL seasons, ESPN and SI always rank the Houston Texans as one of their breakout teams and every year the Texans fail to live up those expectations. A string of 8-8 records has had them on the outside of the playoffs looking in.  The Brewers have entered recent seasons with somewhat similar expectations. But much like Houston, lots of hype (potent offense) but not a lot of substance (starting pitching) leads to a mediocre record. Prince Fielder is the vegetarian version of Andre Johnson and Ryan Braun may in fact be Matt Schaub's third cousin. Lack of starting pitching for the Brewers is similar to Houston's matador defense and for all we know new Milwaukee manager Ron Roenicke use to be a Texans special teams coach.
Google Search: Plenty of change occurred this off season for the Brewers.  The team has resigned 1B Prince Fielder and 2B Rickie Weeks. Their biggest acquisition was a trade for former Cy Young award winner Zack Greinke who will provide stability to the pitching staff, that was until he decided to give us his best Derrick Rose impression and ended up breaking a rib which now puts the beginning of his season in jeopardy.
Famous Movie Quote: Yes, Pete, it is. In fact, it's pronounced "mil-e-wah-que" which is Algonquin for "the good land. – Alice Cooper from Wayne's World.
Leave it to Alice Cooper to deliver one of the most memorable lines from this iconic early 90's film featuring the likes of Wayne Campbell and Garth Algar.  Brewers fans are hoping the Algonquin's were right when they first named the land and with a revitalized pitching staff (Greinke and Sean Marcum), and a wide open NL Central, Milwaukee could be poised for their first postseason bid in 3 years. Of course, Alice Cooper was also know for biting the heads off of live bats. Or was that Ozzy Osbourne? I get those two confused for one another all the time. 2011 prediction: 88-74, 1st place NL Central