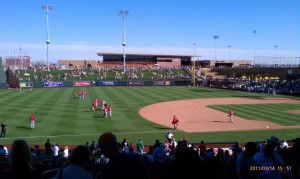 2011 Colorado Rockies
NFL Equivalent – Miami Dolphins: My favorite NFL player growing up was Dan Marino. He was the consummate fantasy football quarterback before fantasy football ever existed. If the Dolphins had any a semblance of a defense I am convinced Marino would have won at least two Super Bowls in the 80s/90s. He also had great hair! I mention this only because Troy Tulowitzki, the star SS for the Colorado Rockies, pursued a similar look this past season. Call it the "crullet" – curly haired mullet. Another similarity between these two franchises…their home climates can, and often do, affect the outcome of a game.  Between the humidity/heat of South Florida and the altitude of the Rocky Mts, opposing teams need to prepare, both physically and psychologically, days in advance before playing in Miami or Colorado.
Google Search: Speaking of Tulowitzki, the Rockies inked their franchise player to a seven year $134 million extension in November, which means he'll be making an average of $20 million until he's 35 years old.  That equates to nearly a quarter of Colorado's mid market payroll. I haven't watched "Tulo" play on a regular basis but it seems like a lot of money to tie up in a single player these days. If Tulowitzki is worth $20 million to Colorado, than Albert Pujols has got to be worth at least $30 million to the Cardinals, Cubs, or Yomiuri Giants.
Famous Movie Quote: That John Denver's full of shit, man. – Jim Carrey from Dumb and Dumber
Dumb and Dumber and Anchorman may be the two most quotable movies of my lifetime. (All apologies to Wedding Crashers, Blazing Saddles, and Dazed and Confused.) As far as I am concerned, Dumb and Dumber II never happened, kind of like Godfather III and the last 3 Star Wars movies. (Thanks for ruining my childhood George Lucas!) The Colorado Rockies are hoping for a strong follow up to their 83-79 campaign in 2010. With Tulo, Ubaldo Jimenez, and Carlos Gonzalez, this team is built to win now. 2011 prediction: 90-72, 1st place NL West