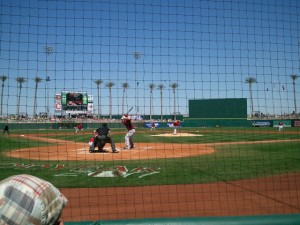 2011 Cincinnati Reds
NFL Equivalent – St. Louis Rams: Young, energetic franchises with marque star players in QB Sam Bradford for the Rams and 1B Joey Votto for the Reds.  Last season, following years of disappointment, the Reds made it to the first round of the 2010 MLB playoffs while the Rams missed the postseason by a single game. St. Louis and Cincinnati also sport relatively new stadiums however neither the Great American Ball Park or the Edward Jones Dome really distinguishes itself on TV.
Google Search: Why would a Chicago Cubs player poop on Dusty Baker's spot in the dugout back when Dusty was enjoying his final days as manager of the Cubs?  I always thought Baker was popular with his players and did not figure him as the manager most likely to be victimized by a anonymous defecation.  Ozzie Guillen maybe but Dusty Baker? Complete shocker. In other offseason news, backup catcher Ryan Hanigan resigned with the Reds for 3 years/$4 million. I mention this not because Hanigan is an important part of Cincinnati's catching corps, which he is, but because we were on the same summer ball team back in 2001. He was a 3B back then but became a catcher based on his strong arm and baseball sense. If you don't remember me Ryan I was the guy shagging all your BP moonshots. Glad things have worked out for.
Famous Movie Quote:
Michael Corleone: I saw a strange thing today. Some rebels were being arrested. One of them pulled the pin on a grenade. He took himself and the captain of the command with him. Now, soldiers are paid to fight; the rebels aren't.
Hyman Roth: What does that tell you?
Michael Corleone: It means they could win.
from The Godfather Part: II
This famous quote from the best movie sequel of all time (apologies to Terminator 2: Judgemet Day, Empire Strikes Back, and Staying Alive) applies to the 2011 Cincinnati Reds in many ways. For starters, this is a hungry team that has the ability and, after last season, the experience to make a run deep into the playoffs. Secondly, the most prized prospect in the Reds organization, Aroldis Chapman, is a Cuban import. All I know about Chapman is that he can throw the ball 105 mph and is either the next Stephen Strasburg – minus the Tommy John surgery – or Joba Chamberlain – minus the 150 lbs. 2011 prediction 88-74, 2nd place NL Central