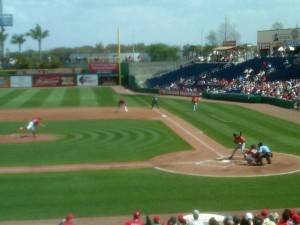 2011 Baltimore Orioles
2010 NFL Equivalent – San Francisco 49ers: Like their brethren from the Bay, the O-Birds have a rich championship tradition and loyal fan base.  But also like San Fran, it has been some time since Baltimore competed for a spot in the playoffs, let alone finished a season with a winning record. When manager Buck Showalter came aboard last July, the Orioles finished the 2010 season playing much better baseball and the 49ers are hoping that newly hired head coach Jim Harbaugh will have a similar effect on the team next fall.
Google Search: Their main offseason acquisitions: 3B Mark Reynolds, 1B Derrick Lee, DH Vladimir Guerrero and SS J.J. Hardy should all provide some much needed punch to the Oriole offense while new pitcher Kevin Gregg will be a candidate to close games.  Another interesting piece of winter news was that the Baltimore front office decided to raise single game ticket prices by an average of $3.  This seems like curious timing for a franchise that hasn't raised prices since 2007 or had a winning season since 1996.  Camden Yards is too beautiful a park to leave empty or continue to see overrun by Yankees/Red Sox fans.
Famous Movie Quote: I'll do what I can to help y'all. But, the game's out there, and it's play or get played. That simple. – Omar from "The Wire".
Might not be a movie, but The Wire was filmed in Baltimore and is as captivating as anything projected across the big screen.  This quote sums up the 2011 Baltimore Orioles who need to look past the fact that they play in the AL East and convince their fans that, with the right combination of young starting pitching and an improved lineup, a division title isn't out of the question.  Of course, w/roughly 40 games vs. Boston and New York, the playoffs might be a thing of the past. 2011 record: 82–80, 4th place AL East