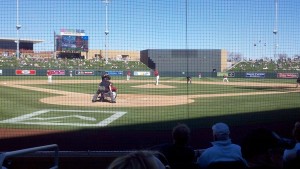 2011 Arizona Diamondbacks
NFL Equivalent – Carolina Panthers: Both teams are lost, mired in small market underperformance, and there is no real suggestion that they will be finding themselves anytime soon. The D'backs, like the Panthers, have some tremendous offensive talent. Justin Upton and Chris Young are comparable to Steve Smith and Jonathan Stewart. Like Carolina, the Diamondbacks are struggling to find a helmsman for the ship, firing their GM (and Haverford College Alumnus) Josh Byrnes mid season in 2010 as the Panthers parted ways with longtime head coach John Fox at the end of last season.
Google Search: Frankly I'm surprised that Upton is still around. Rumors swirled all offseason about a move, as Kevin Towers contemplated total explosion for the sake of rebuilding. A team that was once known for having a stable of excellent front line starters (Dan Haren, Brandon Webb, and even the blossoming Max Scherzer) are now likely to trot out the likes of Joe Saunders, Daniel Hudson, and Ian Kennedy. Yikes. Give the Arizona front office a break, at least they are in the process of  installing solar panels at Chase Field.
Famous Movie Quote: You know your problem? You don't like winners. – Otto from A Fish Called Wanda
This quote applies to the 2011 incarnation of the Diamondbacks for two great reasons. First, the Arizona squad will not like winners because they won't be winners this season. In an NL West populated World Series Champs and upstart contenders, the young, inexperienced D'backs will struggle to reach .500. Secondly, A Fish Called Wanda came out in 1988, the same year current Arizona manager Kirk Gibson hit his famous World Series home run against the Oakland A's. While on the subject of great comedies from the late 80's, what has happened to Ricky Vaughn? A return to the California Penal League has become a distinct possibility once again. 2011 record: 64-98, 5th place NL West