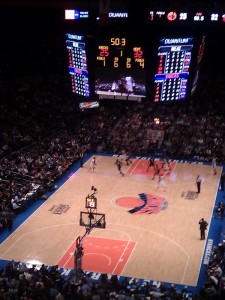 He came, he saw, he conquered.  That about sums about Lebron James and Co. introduction to the Garden as members of the Miami Heat.  James, Dwyane Wade, and Chris Bosh combined to score 84 points in the Heat's 113-91 rout of the New York Knicks. Believe it or not, the game was actually tied at the half however, thanks to a few highlight real dunks, and some incredibly poor shooting by the Knicks, Miami was able to pull away in the 3rd quarter.
New York fans were hoping for so much more.  After a sizzling 16-9 start, NY has now dropped two games in a row. Keep in mind that their last two opponents, the Boston Celtics and the Heat, are both considered title contenders.
I watched this game in a bar alongside VMS contributor and avid Knicks fan Dave.  His Knicks season ticket package did not include last nights game and when he went to look on stubhub, the average ticket was going for $350, that included 70K each for a few prized floor seats. Needless to say, he was more than happy to watch the game from a bar where we split a few beers and a plate of nachos for $70. Money well saved Dave. Money well saved.
Share your views.