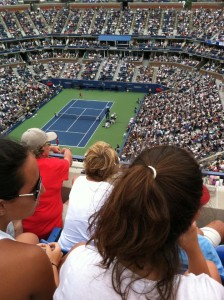 All of this rain is starting to make the northeast look and feel like an episode of The Killing, minus the circular storylines and uninspiring character development. We shouldn't complain however because the poor folks of Bastrop, Texas would certainly appreciate some of this precipitation down in their corner of the country.
In any case, the weather is once again altering the schedule of several major sporting events, namely the US Open in Flushing Meadows, NY. Today, weather pending, will bring one of the healthiest, most robust schedules ever rolled out at a major tournament with every player remaining in the men's and women's draws taking the court. For instance, on Arthur Ashe Stadium today you have in order: Rafa, Djokovic, Serena, and Federer. Not too shabby for a dreary Wednesday in early September.
This particular view comes from my buddy Brownie who was in Ashe Monday for Williams/Ivanovic and Tsonga/Fish. Seeing as it was his first experience at the US Open, he was amazed at the size of the stadium, which he said felt more like an arena than tennis court. On this particular day, there was a line of fans standing around the highest row of seats in Ashe, hoping to catch a glimpse of the Djokovic/Dolgopolov match taking place in the adjacent Louis Armstrong Stadium. No word as to whether or not Brownie was one of those onlookers, but judging from this view, and the apparent lack of leg room in the upper bowls of the arena, I'm guessing he took any and every opportunity to get up and stretch the legs. It's like sitting coach on a JetBlue flight from JFK to San Juan. Just beware of the beverage cart!!!