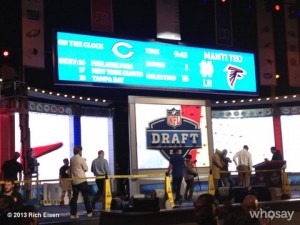 The NFL Draft is an annual ratings bonanza consuming all of its competition like some sort of flesh eating rotavirus. However, just because the draft is an incredibly popular made for tv event doesn't mean that there aren't a few things that could be drastically improved ahead of Thursday night's broadcast.
1. Every team gets their own theme music carefully selected to symbolize and encapsulate the current state of the franchise. For example, the defending Super Bowl champs the Baltimore Ravens would obviously enter to the opening score from 'Game of Thrones' while the Cleveland Brown would be serenaded by the soundtrack from The Sting on account of the FBI ransacking owner Jimmy Haslam's corporate offices.
2. Go back to helmet phones and pieces of paper. Technology these days has made it so that teams don't even really need to send representatives to NYC which is why the NFL should institute a wireless ban in Radio City, forcing the sort of face to face interaction so lacking in our society today.
3. Network graphics must include number of concussions sustained by each player along with their height/weight/40 yard dash time. This would ensure that fans and teams alike understand the short and long term health care risk they assume by drafting a player.
4.  For one day and one day only Mel Kiper should replace Roger Goodell as NFL commish. Imagine how great it would be if immediately after the draft guru announces a selection he launches directly into his highlight reel breakdown just as the player climbs the stage to shake hands. Great lateral quickness but he must develop his overall aptitude and acumen for understanding the complexities of a pro-style 3-4 defense.
5. All players invited to sit in the green room must ditch their designer suits and be forced to choose between the head to toe spandex from the NFL combine or the Starter jacket/zubaz combo right out of the late '80/early '90s.
6. In order to expedite the process picks should be announced 3 at a time and in descending order. This would allow NBA fans to toggle back and forth between the draft and game 3 of the Bulls/Nets series.
7. Ditch Radio City for the outdoor environs of Rockefeller Center with the one catch being that they have to reassemble the ice rink just so we get to watch Suzy Kolber interviewing the top picks while wearing hockey skates.
8. Setup hidden cameras in the private residences of all 32 starting quarterbacks in order to capture March Sanchez's priceless reaction after the Jets trade up to the #8 spot in order to pick Syracuse QB Ryan Nassib.