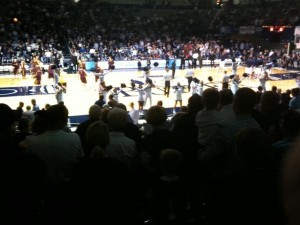 After watching Unguarded I felt like I should have known more about Chris Herren before sitting down to watch the ESPN Films documentary. After all, Fall River isn't too far away from New Hampshire and he did only graduate from Durfee 3 years before my senior year of high school. If Al Gore had invented the internet back in 1994 I would have been able to follow his meteoric rise and humiliating descent with a bit more regularity. But I rarely read the Boston Globe and wasn't ever invited to travel on an AAU basketball team with the likes of Scoonie Penn, Wayne Turner, and the Curley brothers.
I first remember hearing the name Chris Herren when he started his amazing run at Fresno St. Back then, the Bulldogs were featured quite prominently on ESPN2 primarily because of their famous coach Jerry Tarkanian and also because the WAC monopolized the 12am tipoff like they worked for the power company. Tark's Fresno State teams always felt like they had a little Running Rebel in them, impart because their star guard Chris Herren had tattoos before Chris Anderson and bleach blond hair before Eminem.
I can remember talk of Herren being a high draft pick but that there also being concerns of baggage related to earlier run-ins with the law and drugs. When he was traded to the Celtics in 2000 it barely registered with me but mostly because Boston was in the midst of the Rick Pitino years and as we can all remember "Larry Bird is not walking through that door". And then, more trouble and drugs and eventually Herren moved his game overseas and became somewhat of a footnote or a cautionary tale on the price of small town fame and addiction. It wasn't until watching Unguarded that Chris Herren's life came in to focus and I can now truly appreciate his story.
A few other quick observations from Unguarded:
1) Who knew scoring drugs was so easy? It's one of the scarier realizations in the entire film. If you want to catch a fix, the dope is going to find you. Some of us would probably end up looking like Larry David in Curb Your Enthusiasm when he buys some "medicinal" marijuana for his father who is suffering from glaucoma. But the way Herren describes the process makes it seem like such a simple endeavor.
2) Antonio McDyess and Nick Van Exel, two of Herren's teammates during his rookie season with the Denver Nuggets, were legit team leaders. I always thought Van Exel was a hothead and was therefore quite surprised to hear Herren describe how these two basketball veterans lived good, clean lives off the court so as not to tempt their addiction addled rookie point guard. Couldn't see Kenyon Martin or Carmelo Anthony doing this today.
3) Chris Herren is an impressive public speaker. He has a resounding presence and credibility when he stands before a group of kids and recovering addicts. I would not be surprised to hear or see his career as a public speaker/coach take off after more and more people watch this documentary.
Finally, as Herren said, being a recovering addict is a day to day proposition. By the end of the documentary, as he was staring into the bathroom mirror, I got the sense that it would much easier for him to fall back into a life of drugs than it is for him to stay sober. I hope Chris Herren keeps clean and continues to share his message with others. It's an important story, one that we can all learn from and appreciate.
view from Hinkle Fieldhouse courtesy of @shmos