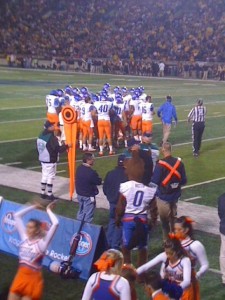 Recently, I've had a lot of people ask me, "hey Jon, what do you think of all this crazy conference realignment happening in college athletics right now?". Pause Ok, so maybe nobody has asked me about all the crazy conference realignment in college athletics right now. But that doesn't change the fact that realignment remains a topic of conversation for passionate sports fans across the country even though amongst my immediate circle of friends it ranks somewhere in between the new season of Dancing With the Stars and the Poker Ponzi Scheme.
So Oklahoma and Texas bolt for the Pac 12, bringing Oklahoma State and Texas Tech along with them, while Mizzou heads down to the SEC, Rutgers and UConn make it 16 in the ACC, and the Big East is left picking up the Big 12leftovers. There has to be enough football money to go around. Last time I checked, the ESPN family of networks was airing almost every single college football game including Gardner-Webb/Wake Forest and UCF/Florida International.
My take is quite simple. As a product of a DIII athletic conference where college presidents will not allow their football programs to play enough games to qualify for post season play because the extra weekends would "interfere" with a student/athletes academics, I really don't understand what all the fuss is about. I mean, so long as there are enough chairs for every school to sit down on when the music stops, shouldn't we just simply allow the process to proceed?
The only thing that really bothers me is the thought of no Big East basketball championship in Madison Square Garden. Those 5 days in early March are one of the highlights of my annual sports calendar. And sure, I can see the ACC tourney relocating to the Big Apple but Duke/Pitt just doesn't carry the same gritty nostalgia as Syracuse/Georgetown. I for one love hearing from curmudgeons like Jim Boeheim who believe AD's should just leave well enough alone.
And finally, the way the Big East is headed, maybe the conference will be lucky to play a tournament in the Providence Civic Center let alone MSG.