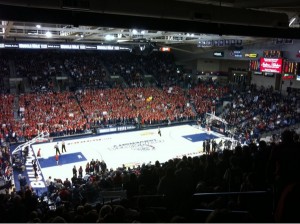 Is it possible to have a March Madness without Gonzaga? After St. Mary's disposed of the Zags 73-71 in Spokane last evening, it has become more and more likely that America's Cinderella will need to win their conference tournament if they hope to have any chance of "dancing" this spring. Long are the days of John Stockton, Dan Dickau, and Casey Calvary.
The other big news out of the Pacific Northwest is the ongoing twitter feud between Seattle Seahawks quarterback Matt Hasselbeck and Jets cornerback Antonio Cromartie.  To make a long story short, Cromartie has threatened to "smash" Hasselbeck's face in over comments the quarterback  posted, then erased, on twitter that questioned Cromartie's overall "grasp" of the current labor standoff facing the NFL this offseason. One thing's for sure, players against players is exactly the type of behavior NFL owners were banking on as they prepare to negotiate the next collective bargaining agreement.
Does the NFL truly face the possibility of a lockout? It seems like there is much too much money involved to just simply postpone, or even cancel the 2011 season.  With television ratings at an all time high, the league has way too much momentum to just simply shut itself down.  I'm hoping a deal is struck soon because Sundays just wouldn't be the same without a health dose of football.