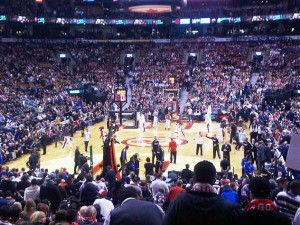 When the story of the night in the NBA is the return of Chris Bosh to Toronto, you know the league is need of a little rest. In honor of this weekends 2011 NBA All Star Game in Los Angeles, I have decided to put together a list of the Top Ten NBA players least likely to be seen at the 2011  All Star Game.
10 – Matt Bonner (F, San Antonio Spurs): A quiet trip home to New Hampshire for some downhill skiing and mustache growing sounds about perfect to me.
9 – Greg Oden (C, Portland Trail Blazers): Rumor has it that the former #1 overall pick will be returning to Columbus, Ohio in an attempt to convince current Buckeye Jared Sullinger to stay in school beyond his freshman season.
8 – Kris Humphries (F, New Jersey Nets): Let's get one thing strait, Kim definitely calls the shots in this relationship.
7 – Marc Gasol (C, Memphis Grizzlies): Sorry little bro, Malibu has enough room for only one Gasol.
6 – Richard Hamilton (G, Detroit Pistons): Poor Rip will be spending his all star break playing the role of Snake Plissken in the Piston version of Escape From Detroit.

5 – Gordon Hayward (F, Utah Jazz): I envision Hayward back in Indianapolis on the Butler campus spending a few nights on Matt Howard's couch, reliving memories of his old college conquests.
4 – DeMarcus Cousins (C, Sacramento Kings): Are we even sure if Cousins has been cleared for air travel again?
3 – Luke Harangody (F, Boston Celtics): I lived in Boston my first year out of college and I can tell you that it is next to impossible to schedule an appointment for a good haircut.
2 – (tie) Robin and Brook Lopez (C, Phoenix Suns/New Jersey Nets): Video games, comic books, and soda pop beckon.
1 – Gilbert Arenas (G, Orlando Magic): Agent Zero got served, literally.
view of the Air Canada Centre courtesy of @_marzipancakes