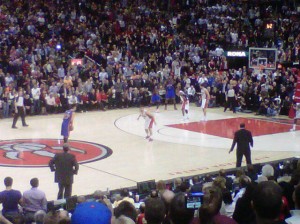 You know who I really feel for this Wednesday morning? Toney Douglas. Not only must Douglas deal with the extra "e" in his first name he must now wrestle with the simple fact that his role as the Knicks young point guard of the future has been usurped for all eternity by Jeremy Lin.
I see Douglas sitting on the Knicks bench, cheering on his teammates with great enthusiasm while wearing a crisp white towel around his neck and a loose fitting Adidas warmup tshirt without an ounce of sweat on it and I think about what could have been. What if he were able to run the high screen and roll with Tyson Chandler and Amare Stoudemire effectively or finish around the basket without care or concern for his body? What if he were able to match the point for point performance of the NBA's 5th highest all time leading scorer or drill a 3 pointer at the buzzer to lead team his team to their sixth straight victory? What if he went to an Ivy League school or represented the hopes and dreams of the Asian American community as well as the miscast overachievers who spend entire playing careers working for just that one opportunity to show what they can do? What if?
But really, the story here is not about Tony, or Toney, Douglas. It's all about Linsanity, with a hashtag. Just to make sure everyone understands how #lintoxicating it has become, Boomer & Carton both said this morning that they would not trade Jeremy Lin to the Orlando Magic for Dwight Howard. This is the same Jeremy Lin who less than a week ago was still sleeping on his brother's couch. Now, thanks to a guaranteed contract and a new pair of custom Hyperfuses, Lin can afford to sublet former Knick David Lee's posh White Plains high rise. No word as to whether or not Dwight Howard would find Trump Tower City Center up to snuff.