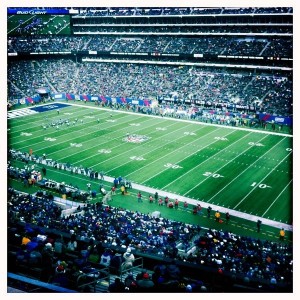 I have now watched the DeSean Jackson game winning punt return against the Giants at least 10 times and each time it gets more amazing, inexplicable.  My two favorite parts: 1) At the start of the return when Jackson fumbles the ball causing the Giants to overrun their coverage. 2) As Jackson breaks free and passes the 20 yards line, the camera picks up Tom Coughlin on the side line throwing his play sheet to the ground and making a bee line for Giants punter Matt Dodge, who made the mistake of kicking to DJack in the first place.  When Coach Coughlin does finally reach Dodge, he undresses his rookie punter with a verbal barrage that can only be described as "humbling".
Anyone who has played competitive sports knows what it feels like to be on the receiving end of a coach's tirade.  The worst moments are when you know you made a mistake and the coach is still there to remind you what a big mistake it was.  If you watch the DeSean Jackson punt return carefully, you can see Dodge narrowly miss a shoestring tackle, followed by him falling to the ground with his head in his hands.  By punting to Jackson, he knew instantly what he had done and what was waiting for him on the sidelines.  I'm not sure if Dodge is at all prepared for the proper public smearing he now faces as the New York papers will no doubt have their creative way with this Giants epic collapse.
In other Week 15 news, the Patriots beat the Aaron Rodgers-less Packers 31-27.  Green Bay dominated  time of possession and the young New England defense was the epitome of bend but don't break. Pats are in good shape for the top seed in the AFC but their mercurial defense still makes me very nervous.
What stood out for you on this very exciting day of football? Share your views.