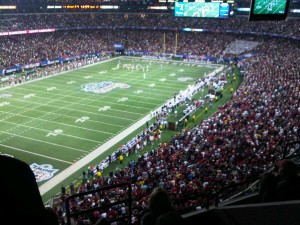 TicketCity Bowl: Northwestern vs. Texas Tech(-9.5)
January 1, Noon ET (ESPNU)
"Analysis": The first of the New Year's Day bowl games. This could be the earliest I ever break my New Year's resolutions. "I will no longer drink to make things tolerable."
VMS Pick: Texas Tech
view of the Chick-fil-A Bowl courtesy of @rgpgreenville
Outback Bowl: Florida(-7.5) vs. Penn State
January 1, 1 pm ET (ABC)
"Analysis": 7.5 points?! Tell me how. Unless Joe Paterno is lined up under center, there's no way that the Lions should that big a dawg. Also, I won't watch this game, because none of the players are good.
VMS Pick: I refuse.
Capital One Bowl: Alabama(-10) vs. Michigan State
January 1, 1 pm ET (ESPN)
"Analysis": This one's more like it. I'm sure the good people of Orlando were thrilled when The Tide lost a couple of games, placing themselves out of the BCS picture. With the Spartans just missing out on the Rose Bowl, their attention might be elsewhere, and this one might get late early. Roll Tide (best new commercial on TV)!
VMS Pick: Alabama
Gator Bowl: Mississippi State(-4.5) vs. Michigan
January 1, 1:30 pm ET (ESPN 2)
"Analysis": I haven't seen the Bulldogs play one down this year. But with Disney's infatuation with Shoestring Robinson and Coach Rodriguez, I have seen enough of the Wolverines to know that they only play 9 guys on defense. Not really, but close. If State has a full compliment of offensive players, they'll win.
VMS Pick: Mississippi St.
Rose Bowl: Wisconsin vs. TCU(-2.5)
January 1, 5 pm ET (ESPN)
"Analysis": Badger QB Scott Tolzien is a great Manager of the Game. Horned Frog signal caller Andy Dalton has red hair. You make the call. Wisconsin should be able to run the ball, with three backs (White, Clay, Ball) who combined for nearly 3,000 yards and 34 TDs on the ground.
VMS Pick: Wisconsin
Fiesta Bowl: Connecticut vs. Oklahoma(-17)
January 1, 8:30 pm ET (ESPN)
"Analysis": Hahahahahahaha! All of you purists screaming that UConn doesn't belong in a BCS game can take your shoes off and kick rocks. Someone forgot to eliminate the Big East as an automatic qualifier, the planets aligned, the Huskies were able to find a wormhole in the matrix, and now they have the honor of playing The Sooners on New Year's night. This one won't be close.
VMS Pick: Oklahoma
Orange Bowl: Stanford(-3) vs. Virginia Tech
January 3, 8:30 pm ET (ESPN)
"Analysis": Pure pocket passer, and likely top draft pick, Andrew Luck against the eely, rubber-armed Tyrod Taylor. This is also possibly Coach Harbaugh's last game at Stanford. I can't see the Hokies pulling this one off, but they do seem to come ready to bowl every year. Don't bet on this game.
VMS Pick: Stanford
Sugar Bowl: Ohio State(-3.5) vs. Arkansas
January 4, 8:30 pm (ESPN)
"Analysis": This is a BCS game, huh? Terrell Pryor is good, no matter what people say. Ryan Mallett is also pretty good. Most likely, he will grow up to be something close to Phil Rivers, who no one seems to like. Both of these teams are at-large BCS picks and have a bunch of offensive threats. Ohio State seems to have the edge in experience, but Arkansas had to play that tough SEC schedule.
VMS Pick: Ohio St.
GoDaddy.com Bowl: Middle Tennessee vs. Miami (Ohio)(-1)
January 6, 8 pm (ESPN)
"Analysis": Why is this game being played on January 6? That seems disrespectful. Here's the scoop, though: Ben Roethlisberger went to Miami, but got himself into some trouble in Murfreesboro, Tennessee, which happens to be the home of MTSU. Who's responsible for this mathcup, Abe Zapruder.
VMS Pick: Miami (Ohio)
AT&T Cotton Bowl: LSU(-1.5) vs. Texas A&M
January 7, 8 pm ET (FOX)
"Analysis": Popular to what FOX wants you to believe, this is NOT a BCS game. LSU's offense is so bad.
VMS Pick: Texas A&M
Papajohns.com Bowl: Pittsburgh(-3.5) vs. Kentucky
January 8, Noon ET (ESPN)
"Analysis": Again—January 8th? Really? This one's for the whole of Appalachia, friends!
VMS Pick: Pittsburgh
Kraft Bowl: Nevada(-9.5) vs. Boston College
January 9, 9 pm ET (ESPN)
"Analysis": Wolfpack rolls. Kaepernick swims in McCovey Cove.
VMS Pick: Nevada
Stay tuned for Tis the Season for Bowling: National Championship edition. Until then, share your views.