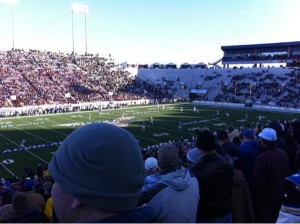 Independence Bowl: Air Force(-3) vs. Georgia Tech
December 27, 5 pm ET (TBD)
"Analysis": I'm genuinely surprised that The Falcons are favored here. I thought Georgia Tech was supposed to be pretty good. The ACC must stink even worse than I thought. Anyway, I haven't seen Air Force play, but I imagine they still run some kind of crazy Wing-T offense up there in Colorado Springs. Tech's athletic QB Josh Nesbitt will likely be inactive (ahhh, hence the point spread!).
VMS Pick: Air Force
Champs Sports Bowl: West Virginia(-3) vs. NC State
December 28, 6:30 pm ET (ESPN)
"Analysis": Champs is an awesome store. Whenever I visit a new city, I always try to get to a Champs so I can buy the t-shirt of a local athlete. Nice little tradition. Anyway, this game is being played in Orlando, where the only pro team is the Magic. I would not want any of their t-shirts. None. If someone gave me a shirt that said Reddick on the back of it, I wouldn't even use it to wipe sweat off of my mortal enemy's pet bulldog. This game features two up-and-comers at QB: Geno Smith for the Mountaineers and Russell Wilson for The 'Pack. But the x-factor will be the too quick for his shoes Noel Devine. If he gets loose, this one won't be close.
VMS Pick: West Virginia
Insight Bowl: Missouri (-2.5) vs. Iowa
December 28, 10 pm ET (ESPN)
"Analysis": Oh, man. Iowa's best player, WR Derrell Johnson-Koulianos just got arrested for running something called a 'drug house'. A drug house?! In Iowa! Anyway, the U. of Iowa was really embarrassed, because DJK also had a bunch of bad stuff in his system at the time of the arrest. Reminder: this all happened in Iowa! Needless to say Derrell will not be gracing the Insight Bowl, nor will a bunch of his teammates, who have all been summarily dismissed from the team. Even without the "Brad's" (Pitt and Smith), Lesley Stahl, and Jon Hamm, this one should be a laugher for The Zoo..
VMS Pick: Missouri
Military Bowl: East Carolina vs. Maryland (-7)
December 29, 2:30pm ET (ESPN)
"Analysis": Jeff Blake went to East Carolina. Boomer Esiason went to Maryland. Both were all-pro QBs for the Bengals. And both threw a whole mess of INTs while winding down their careers for the Jets. Under Armour was born in College Park, but he East Carolina mascot is an angry pirate. That's about all I've got.
VMS Pick: East Carolina
Texas Bowl: Illinois vs. Baylor(-1.5)
December 29, 6 pm ET (ESPN)
"Analysis": So the name of this game would lead you to believe that the state of Texas is the primary sponsor. How is this possible?  I wonder if the taxpayers of Texas mind that their hard earned money is going into filling the "swag bags" for both teams. Baylor's playing near home. This game is not exciting. How did this matchup happen?
VMS Pick: Baylor
Alamo Bowl: Oklahoma State(-5.5) vs. Arizona
December 29, 9:15 pm (ESPN)
"Analysis": This will be a good one. Nick Foles is a pretty serviceable QB, with a strong arm and decent hair. Justin Blackmon will wind up being every bit as good as Dez Bryant, his Cowboy WR predecessor. If OSU can defend (The Alamo??), they'll win.
VMS Pick: Oklahoma St.
Armed Forces Bowl: Army vs. SMU(-8)
December 30, 12 noon (ESPN)
"Analysis": Do NOT confuse this with the Military Bowl. It's a totally different thing. Country versus God here. Craig James's got nothing on Patton.
VMS Pick: Army
New Era Pinstripe Bowl: Kansas St. vs. Syracuse (PK)
December 30, 3:20 pm ET (ESPN)
"Analysis": Winter football at Yankee Stadium! The Wildcats will make the short commute from Manhattan to The Bronx, while all the Ugg-wearing 20-somethings from Westchester County will be out in full force. I wish this was a basketball game.
VMS Pick: Syracuse
Music City Bowl: North Carolina (-2) vs. Tennessee
December 30, 6:40 pm ET (ESPN)
"Analysis": UNC! UT! Memphis! Barbecue. Opryland. Oh, and a football game.
VMS Pick: Tennessee
Holiday Bowl: Nebraska(-14) vs. Washington
December 30, 10 pm ET (ESPN)
"Analysis": How disappointing has Jake Locker been? From Heisman front-runner and sure-fire #1 overall pick at the beginning of the season, to oft-injured and an uncertain 1st Rounder. Enjoy San Diego, Jake! The Huskers stay classy.
VMS Pick: Nebraska
Meineke Bowl: South Florida vs. Clemson(-5)
December 31, Noon ET (ESPN)
"Analysis": This is another of those matchups, born out of the BCS. 14th place ACC vs. 19th place Big East. Enjoy this one, Charlotte, while you're caring for your cars.
VMS Pick: Clemson
Sun Bowl: Notre Dame vs. Miami(-3)
December 31, 2 pm ET (CBS)
"Analysis": If only this were 1989. Alas, neither of these teams is very good. But at least Brian Kelly still has a job, know what I mean. Two once storied programs, now playing in the background as America hydrates and irons its slacks for New Year's Eve. Depressing.
VMS Pick: Notre Dame
Liberty Bowl: Georgia(-6.5) vs. UCF
December 31, 3:30 pm ET (ESPN)
"Analysis": AJ Green wrecks secondaries like Daunte Culpepper wrecks fantasy seasons.
VMS Pick: Georgia
Chick-fil-A Bowl: South Carolina vs. Florida State (-3)
December 31, 6:30 PM ET (ESPN)
"Analysis": The Ol' Ball Coach hates him some 'Noles. I can already see him tossing that stupid visor. South Carolina has some serious talent, including true freshman Marcus Lattimore and stud WR Alshon Jeffrey.
VMS Pick: South Carolina
Share your views