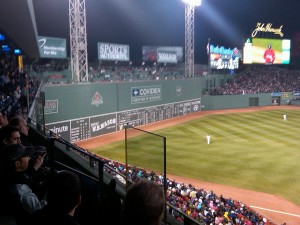 Before heading out to Yankee Stadium this evening for my first MLB baseball game of the season, I thought it was appropriate to spend a few moments commenting on the state of the last place Boston Red Sox after a dismal 2-9 start to the season. I'm not a Sox fan and if there is one thing "The Nation" dislikes it is non Sawx fans having any sort of opinion on their team whatsoever. So, I asked VMS contributor, and rabid Boston sports fan, Abe what he thinks is going on with the Sox and whether or not he has already given up on the Carl Crawford "experiment".
Abe was in Fenway for the Sox 4-0 Sunday night victory over C.C. Sabathia and the Yankees. He said that heading into the game most Sox fans remained optimistic and unwilling to push the panic button too early but cautioned that the next ten games could go a long way in determining the course of the 2011 season. Our conversation was three days and two home losses at the hands of the Tampa Bay Rays ago. Now, at 2-9, are Sox fans ready to push that panic button?
For me, it boils down to two things: pitching and chemistry. When Tim Wakefield is your most reliable starting pitcher, and he he hasn't started a game all season, you know your staff is under performing. Watching the Dice-K Monday night meltdown was a bit like being in the audience for a high school musical when the lead actors forgets all their lines. Judging by the cheers for Francona as he pulled Matsuzaka from the game in the 3rd inning, Sox fans have seen enough and are ready for a change.
The chemistry issue is not all that uncommon a problem. Any time you introduce new stars – Carl Crawford and Adrian Gonzalez – to an already established veteran lineup/clubhouse you must account for a small grace period while these players are acclimated to their new surroundings. No worries, Crawford and Gonzalez are going to be superstars in Boston for a long, long time.
So relax Red Sox Nation, your team is going to be alright. Unless they lose tonight and fall to 2-10.