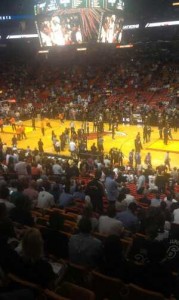 This is a big weekend for both the NBA and Hollywood. As basketball enjoys its All-Star break Tinseltown gears up for the Academy Awards this Sunday night. Now is as good a time as any to predict both the winner of the Best Picture Oscar and the NBA Championship.
Outside Looking In
New York Knicks/Extremely Loud And Incredibly Close: After last night's humbling loss to the Miami Heat I have some serious reservations about even including New York on this list. But the Knicks still deserve mentioning in large part because these past few weeks of Linsanity have been much too captivating to at least not consider a title run for this team. The Knicks will probably not get past either the Bulls or Heat but their presence in the Eastern Conference playoffs will do wonders for the television rating, that is of course if you are a Time Warner customer living in Manhattan.
Movie buffs aren't quite sure how Extremely Loud & Incredibly Close ended up being nominated for a Best Picture Oscar with some reviewers calling it "self important" and "crass".With Tom Hanks and Sandra Bullock leading the cast, EL&IC boasts an impressive starting lineup but much like Knicks, the movie's crunch time lineup includes crucial performance by supporting players like Max von Sydow and Viola Davis. But can you really win a championship wtih JR Smith launching 3 pointer after 3 pointer?
Dallas Mavericks/War Horse: Can't discount the champs, even if free agent acquisition Lamar Odom has spent more time worrying about how to fix his sex swing than trying to figure how to help the Mavs win another title. You have to wonder whether or not this team has the drive again this season to push themselves all the way to the NBA Finals or maybe they are just satisfied to wait a year until they can go out and sign both Deron Williams and Dwight Howard this summer.
Speaking of running on past laurels, War Horse, directed by Steven Spielberg and based on a famous play, is the story of a boy and his horse and World War I. In other words, how did they ever turn this into a Broadway show? This film, much like the Dallas Mavericks, is on this list because of the past successes of Spielberg. And just like Dirk Nowitzki, it'll take a whole roster of thoroughbreds for this director to win the big prize on Sunday.
Los Angeles Lakers/The Tree of Life: The Lakers have no point guard, zero depth, and are rumored to be shopping Pau Gasol. However, as long as they have Kobe Bryant they remain a threat to win the Western Conference, even if he is surrounded by a group of ripening corpses and Andrew Bynum's fragile skeleton.
The Tree of Life is very very hard to understand, which is probably exactly what director Terrence Malick was shooting for. Is it about a middle class family in Texas during the 1950's or the end of the world as we know it? Does Malick really believe that dinosaurs will inherit the earth once again or was he simply trying to make a statement about the ephemeral nature of human existence? Either way, it doesn't take a genius to figure out that The Tree of Life is much too ambitious to appeal to the average Academy voter. And like the Lakers, it's really hard to win a championship when your roster is full of lifeforms from the Cretaceous era.
The Darkhorse
Denver Nuggets/Midnight in Paris: The Nuggets are an incredibly entertaining basketball team. They get up and down the court, defend, and take boatloads of threes. They also have the depth and athletic ability to match up very well with the Clippers and Thunder.
Midnight In Paris is a whimsical tale that brings us back to the Belle Epoque of Woody Allen's illustrious career. But just like the Nuggets, the most entertaining movie doesn't always win the Best Picture Oscar. (see 1997)
The Contenders
San Antonio Spurs/Moneyball: The Spurs have always spent their dollars wisely, acquiring a valuable stable of role players like Matt Bonner, Gary Neal, and Kawhi Leonard to compliment veteran stars Tim Duncan, Tony Parker, and Manu Ginobili. Once again the issue for the Spurs will be the health of their aging nucleus. If any of their stars are unavailable or hobbled for the playoffs then it becomes next to impossible for the Spurs to keep up with the younger legs of the Western Conference.
The Oakland A's, like the Spurs, have a history of cobbling together a starting lineup by signing other teams castoffs. Moneyball is a baseball movie about the island of misfit toys with Brad Pitt at the center of a statistical revolution that transformed professional sports. The story ends in defeat which may be an ominous sign for Spurs fans.
Los Angeles Clippers/Hugo: Hugo is a movie about the magic of movies. (Go figure. Scorcese going the PG route.) There's a lot of magic taking place at the Staples Center this season and for once it's not just the Lake Show. Blake Griffin continues to defy gravity and Chris Paul has established Lob City as more than just a passing fancy. It will be interesting to see whether or not the Clippers can carry this mystique into the second half of the season. In either case, it wouldn't be a surprise to see either walk away with big prize.
The Favorites
Oklahoma City/The Descendants: OKC is young, energetic, and most importantly after last season's playoff run, experienced. The Thunder certainly have the young legs to outlast their Western Conference competition but the question will always be, who takes that final shot: Kevin Durant or Russell Westbrook?
When it comes to Hollywood, there is no doubt that George Clooney is the man in charge. However, his character in The Descendants is very un alpa dogesque. The Descendants is two hours of scowling self loathing woe is me catharsis. In other words, a typical night in the life of Thunder center Kendrick Perkins.
Chicago Bulls/The Help: It was unfortunately only a matter of time before Derrick Rose broke down. His bad back is asymptamatic of his relentless style of play and effort on both ends of the court. Bad backs are really hard to overcome, just ask your dad.
Rose certainly could use a little help in Chicago but he has recently denied reports that he was asking the Bulls front office to trade for Pau Gasol. The Help is riding waves of momentum and it would make a lot of people smile to see the feel good movie of the year ride away with Hollywood's biggest prize.
The Winner
Miami Heat/The Artist – The regular season does not matter because this Heat team will be judged by their performance in the playoffs. However, if recent games are any indication, LeBron James and company are motivated and capable of eviscerating any foe in their path. Silence has never been the answer for the Big Three but it could be the gimmick that pushes The Artist over the top. But, as with the Heat, there will be a lot of people rooting against it on Sunday night. If the past is any indication then Harvey Weinstein will not mind that there are a lot of movie fans out there who don't like him. Unlike LeBron James.
 view from American Airlines Arena courtesy of @PLRLifestyle