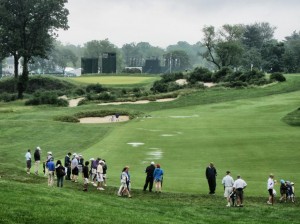 This week Merion Golf Club in Ardmore, Pa hosts the 113 U.S. Open. With the deepest field in professional golf history set to tee it up starting Thursday morning, predicting a winner can be downright difficult and destructive. Here is a sampling of scenarios should things play out for a few specific golfers.
Rory McIlroy wins if Nike returns his old clubs allowing him to regain the form that had him lapping the field two years ago at Congressional when he won his first major. It's probably too early to tell for sure but it's starting to seem as if Rory lacks Tiger's maniacal drive to succeed at all costs. Using NBA parlance, he's like Shaq to Tiger's Kobe, a once in a generation talent capable of dominating his opponents yet also quite content with other off the course interests.
Webb Simpson wins if the golf gods believe in repeat champions, which the way the 2012 U.S. Open champ is currently playing seems highly unlikely.
Jim Furyk wins if there is a home field advantage. The Pennsylvania native may very well  be a diehard Pittsburgh Steelers fan but would surely switch allegiance across the state to the Philadelphia Eagles if that's what it took to deliver another major.
Sergio Garcia wins if everyone remains quiet during his backswing.
Ian Poulter wins if this were the Ryder Cup.
Keegan Bradley wins if there is such a thing as NHL karma. The lifelong Boston Bruins fan must be enjoying his favorite hockey team's pursuit of Lord Stanley. Same can be said for Chicago transplant Luke Donald and the Blackhawks.
Steve Stricker wins if he stops giving putting tips to other golfers.
Adam Scott wins if this were a handsomest man on the PGA Tour competition.
Bubba Watson wins if Merion were about 1000 yards longer but since it's the shortest course of the four majors this year bombers like Bubba and his playing partners Dustin Johnson and Nicolas Colsaerts could have a tough time navigating the tighter landing spaces.
Zach Johnson wins if he's learned how to walk on water, a useful skills given that holes 11 and 12 may very well be under water thanks to a 3 day deluge that inundated the northeast over the weekend.
Steve Jones, the 1996 U.S. Open champ, wins if like the cicadas he returns after gestating underground for 17 years.
And finally Tiger Woods wins if the oddsmakers are right, which they usually are. Merion is a mystery to most of these players having not hosted a major championship since 1981. We know that Tiger tends to perform exceptionally well at tracks he plays frequently (see: Doral) so it'll be interesting to watch how he handles such unfamiliar terrain.