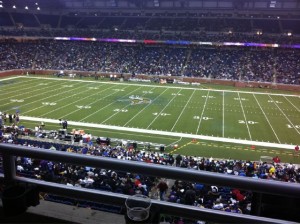 My favorite part about the setup in Ford Field tonight is the "smudging" left behind when stadium operators erased the Detroit Lions logo and replaced it with the Minnesota Vikings. Looks like they were trying to change an answer on the SAT.
1. New England Patriots (11-2): I really wish people would stop comparing this team to the 2007 Patriots.  Every time I hear this I picture David Tyree with velcro on his helmet. Were you aware that Tyree wasn't even in the league anymore?
2. Atlanta Falcons (11-2): Best team I know next to nothing about.
3. New Orleans Saints (10-3): Saints might be on the road in the first round of the playoffs to face the NFC West champ. Good chance they are favored by over a touchdown in that game.
4. Pittsburgh Steelers (10-3): Are we really sure Carson Palmer hasn't been replaced by his younger brother Jordan? Bengals made it too easy for the Steelers yesterday.
5. Baltimore Ravens (8-4): C'mon Joe Flacco. The Fighting Blue Hens are counting on you!
6. Philadelphia Eagles (9-4): Forget about Michael Vick for a second. DeSean Jackson! Dude is fast.
7. Chicago Bears (9-4): Yesterday's result against the Patriots was payback for Super Bowl XX. Still can't believe Ditka stole that TD away from Walter Payton and gave it to William "The Refrigerator" Perry instead.
8. San Diego Chargers (7-6): Warning. Kansas City Chiefs and New York Jets. Objects in mirror are closer than they appear.
9. Green Bay Packers (8-5): It's a strong possibility that the best offense in the NFC doesn't even make it to the playoffs.
10. New York Giants (8-4): 1pm start vs the Eagles begins a tremendous day of NFL football next Sunday. NYJ/Pitt at 4:15 followed by Packers/Pats on Sunday Night.