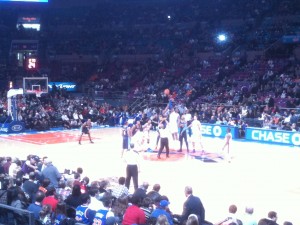 These were the immortal words of viewmyseats own Dave after attending today's Knicks matinee in Madison Square Garden. With Sunday's 129-125 win over Denver, New York extends their win streak to 8 games and raises their season record to a formidable 16-9.
This is a crucial week for the Knicks as the Celtics come to town Wednesday, followed by Lebron and the Heat on Friday night.  Dave and his brother are lucky enough to have tickets to Friday nights contest against Miami.  I was hoping to stumble upon a ticket myself but as Mike Francesa continues to remind me, there is "huuuge, repeat huuuge" demand for seats.  Fear not, VMS will still be well represented.
Anyone else fortunate enough to have tickets to the Knicks/Heat Friday night? Share your views.