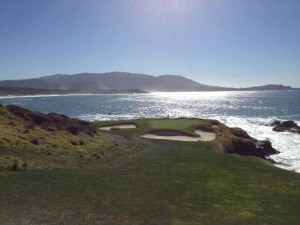 Does anyone have any idea how much money/clout/visibility/fame it takes to compete as an amateur in the AT&T Pebble Beach National Pr0-Am? I know it's a public course and all but I assume that tournament organizers won't allow just any slap-dick with $500 on one of the several fine courses of the Monterey Peninsula this weekend.
And another thing, how do they decide who plays with who? For instance, who decided it was a good idea to pair Trevor Immelman with George Lopez? Or what about Ryan Moore and Jim Harbaugh? I bet Moore is way to nonchalant for the always intense 49ers coach. Harbaugh is going to take one look at Moore's argyle sweater vest/Sketchers golf spikes combo and recommend that the relaxed golfer take a lap around Spyglass Hill. I get the whole Woods/Romo thing (best golfers/largest galleries) and Chris Berman/JJ Henry (Chubby people from Connecticut) but a lot of these pairings just don's seem to make any sense. I would really like to be a fly on the wall for when John Huh and Mike Aymar meet for the first time. On second thought, who are John Huh and Mike Aymar?
The real story this week is the return of Tiger Woods to the Pebble Beach National Pro-Am, a tournament he hasn't visited  in 10 years. The Monterey Peninsula remains the site of one his greatest triumphs in professional golf, the 2000 US Open. It's also interesting that Tiger has taken up the crusade against belly putters, referring to himself instead as a golfing "traditionalist". It'll be interesting to see what Tiger has to say about the anchored look once he develops the yips himself. Perhaps he should be much more compassionate and think about all the tournaments Tom Watson and Johnny Miller would have won if the belly putter were available back in their day.
The good news for me is that when you are a 20+ handicap it really doesn't matter what kind of putter you use just as long as you don't run out of golf ball by the 11th hole.
view from the 7th hole at Pebble Beach courtesy of @geoffogilvy