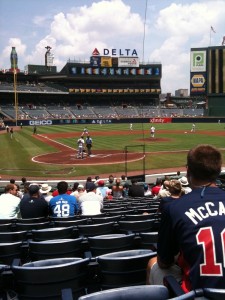 Martin Gandy is the lead writer for Talking Chop, a baseball blog dedicated to the Atlanta Braves and their fans. The Braves are once again competing for a spot in the NL playoffs, and with a big series opening tonight vs the Pittsburgh Pirates, the blogging business is booming. We asked Gandy, known throughout Talking Chop circles as "gondeee", about the View from Your Seat feature on his site as well as his feelings on Turner Field and the secret to the Braves success in 2011.
Having people share a view from their seat is such a great way to allow fans to network with other fans. Why did you decide to add this feature to your site? Where do you see this particular idea heading? For instance, do you think non Braves fans visiting Turner Field for the first time will stop by Talking Chop to see where to sit, what to eat, etc?
I got the idea from Andrew Sullivan's blog and his View From Your Window series. I'm always looking for ways to bring more reader interaction into the blog, and I also like how the View From Your Seat posts break up the page as one scrolls down the blog. Even if you're in front of a computer screen you're still able to peek into games, from all angles. Including minor league Views also gives people a window into all the different levels of baseball that exist out there.
I see this series continuing for as long as folks will send in pictures, and there's been no shortage of late. Last New Years I put together a slide show that scrolled through dozens of Views from the previous year — that was well received, especially during the height of the baseball off-season.
In general, are Braves fans happy with Turner Field? Seeing as how it was built to host the '96 Olympics, can it sometimes feel a little too multi-purpose/cookie cutter like say Fulton County Stadium?
It was refitted to just be used for baseball after the Olympics, and is one of the better stadiums to watch a game in (I can say that after having been to all but seven current stadiums). Every year they continue to add features to improve the stadium, like the huge HD screen in the outfield. The Braves don't do the best job of creating a wonderful fan experience, but they do a pretty good job of it. There are a lot of things to like about the Ted.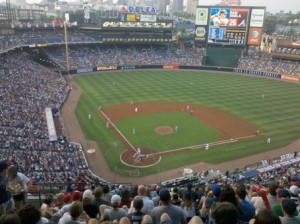 As far as MLB south of the Mason-Dixon line goes, the Atlanta Braves are pretty much the only show in town. Why is it then that the team struggles to draw fans? I feel like the Braves, one of the top organizations in all of baseball, should be higher than #15 for average attendance this season. Is this just a case of an apathetic Atlanta sports base or perhaps something as simple as say the weather?
Fans can sometimes get spoiled by winning, Braves fans certainly were for a long time. There are a myriad of reasons for not filling the stadium. Traffic in Atlanta can be an obstacle to attending games during the week, especially during the school year. Keep in mind most folks live outside the city, so it's at least a 20 to 30 minute commute to and from the game, and much more during rush hour. The heat is certainly a factor for some. I would say that Atlanta is also primarily a football town, as is most of the South, so baseball can take a back seat to football even during the football off-season.
The 2011 Braves are once again competing for a spot in the NL playoffs. What has made this particular team so special and what kinds of move do you think the Braves will make before the trading deadline?
The rookies and young players have really shined this year. Craig Kimbrel, Freddie Freeman, and Brandon Beachy are all rookies who will likely compete for the ROY at the end of the season. Other young players like Jason Heyward, Jonny Venters, Jair Jurrjens, and Tommy Hanson have really come into their own as stars of this team. The pitching has been the thing that has paced this team. The Braves go as their pitching staff goes, that was true in the 90s and it's especially true this year.