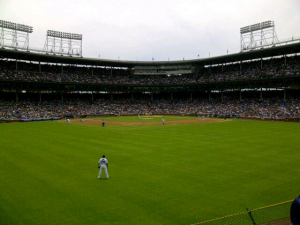 Al Yellon is the managing editor of Bleed Cubbie Blue, a baseball blog dedicated to the Chicago Cubs and their incredibly loyal, lovable fans. Misery loves company and as the Cubs continue to flail well below .500, thousands of Northsiders flock to the blogosphere, trumpeting their ideas for how to cure 103 years of futility. Al was nice enough to take some time out of his busy schedule to answer a few questions about the 2011 Cubs, Wrigley Field, and the MLB trade deadline.
As a blogger/independent contractor who has no real direct affiliation with the Cubs organization, how much of your job involves making sure the team does right by the fans? Has Bleed Cubbie Blue ever had direct or indirect influence over a specific front office decision? If so, what does that say about the leadership within the Cubs organization? Frankly, I would find it hard to root for a team that is easily influenced by the fans. Of course, I'm a Baltimore Orioles fan and most of us wish the current owner Peter Angelos would simply just go far far away and leave the team to Cal Ripken.
I'm not sure what you mean by this. I don't consider my "job" as being anything except trying to write accurately about what's going on with the team. If I see something wrong, I'll say it. If I see something right, I'll say that, too — which appears to me to be different from some Cubs bloggers, who seem to write with the viewpoint "everything the Cubs do is wrong". I don't feel that way.
I don't believe that I have specifically had influence over any front office decision, though I do believe what I wrote last year about the mess in the bleachers did result in some positive changes in how security deals with drunk idiots.
What in the world is going to happen to Wrigley Field? You have people like Peter Gammons calling for massive renovations while a lot of loyalists hope to preserve the great history and integrity of the field. Do you think that the new ownership is going to be willing to spend the money to update certain aspects of the field, sort of like what the Henry/Werner/Lucchino group did in Boston w/ Fenway?
I believe the park will be upgraded and renovated in a very similar way to what happened with Fenway in Boston. Money is currently an issue, so it may take a few years, but I know ownership is committed to getting it done. Gammons' comment about Wrigley being a "dump" was not only wrong, but misinformed. There's nothing wrong with Wrigley; it has been maintained well and the team puts money into upkeep every offseason.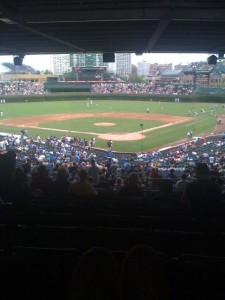 As you tweeted last week, the Wrigley Field bleachers were wide open during a summer Sunday for the first time since the '70s. Is this a case of the dreadful economy making it harder for the good people of Chicago to buy tickets or are we finally seeing Cubs fans take part in a little civil disobedience and say: "unless we start winning we're just not going to hand over our hard earned money"?
It's a little bit of both. The team has priced tickets far beyond what the current performance of the team OR the current economy will bear. It will get worse in September even if the Cubs play well for a month or so, after schools are back in session and the weather gets cooler.
The Cubs will have to significantly lower some prices in order to get people back in the park.
How do you see the 2011 season ending for the Cubs? Who stays? Who goes? Hope for the future? You can have Felix Pie back if you like.
This will be a very interesting week leading up to the trading deadline next Sunday. It's very possible that several veterans will go. Current rumors involve Kosuke Fukudome and Carlos Pena, but many others might be dealt before the deadline — or even after, since they'd probably all clear waivers.
That will give hope for the future; the 2007-08 core, that won two division titles, did well, but it's time to turn the page and start fresh.
No thanks on Felix Pie, incidentally.
views from Wrigley Field courtesy of @SmartAlexander and @ChiStreetStyle