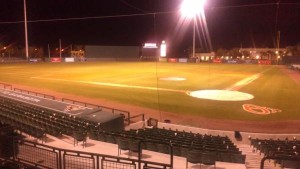 Last year VMS did individual previews for each of the 30 MLB teams. In the end, that process was both time consuming and slightly ineffective. This year I have tried something a bit less labor intensive yet an idea we can all relate to. With that in mind, it is now time to take a few trips around the Monopoly board as I use the beloved game to preview the 2012 MLB season.
Dark Purple (the welcome mats)
Mediterranean Avenue – Houston Astros, Baltic Avenue – Oakland A's
The only thing that could have kept the Astros out of the board game basement would have been if they changed their name back to the Colt .45's. As for the A's, maybe a new stadium will change their future fortunes.
Railroads (surprising overachievers)
New York Mets, Chicago Cubs, Chicago White Sox, Cleveland Indians
Individually, the railroads are essentially worthless entities. However, when combined they form quite the formidable conglomerate. In the case of the Mets, Cubs, White Sox, and Indians expectations are fairly low but something tells me that a couple of these teams will surprise us all and remain in contention through the All Star break.
Light Blue (proud yet pathetic)
Oriental Avenue – Baltimore Orioles, Vermont Avenue – Pittsburgh Pirates, Connecticut Avenue – San Diego Padres
The light blues are your first real opportunity around the board to score a semi desirable property. I don't know what the statistics show but it sure does seem like a lot of players land on these three pieces of not so prime real estate. Speaking of people landing on something, the Orioles, Pirates, and Padres have been getting stepped on for years. Just one winning season, that's all us Orioles fans are asking for!!!
Light Purple (too old with too far to go)
St. Charles Place – Minnesota Twins, States Avenue – Atlanta Braves, Virginia Avenue – St. Louis Cardinals
There's something about taking that turn around Just Visiting that gets participants all sorts of hot and bothered. Unfortunately, Monopoly is very rarely won or lost in the light purples. Fans of the Twins, Braves, and Cardinals know a thing or two about winning. This year things could be different as all three are beginning to trade on name more than talent. Too bad to since you haven't lived until you've tried the Walleye Skewer at Target Field.
Water Works & Electric Company (meh)
Milwaukee Brewers, Arizona Diamondbacks, Colorado Rockies, Seattle Mariners
I've been playing Monopoly for most of my life and I still can't figure out exactly how you make money off of either Water Works or Electric Company. All I know is it somehow involves percentages and I was never any good at fractions to begin with. The Brewers, Diamondbacks, Rockies, and Mariners are equally as hard to figure out which is surprising considering 2 of 4 made the postseason in 2011. East coast bias? Perhaps, but how many of you living west of the Mississippi were even aware that the MLB regular season started last week in Japan?
Orange (can't you just smell the free parking?)
St. James Place – Kansas City Royals, Tennessee Avenue – Toronto Blue Jays, New York Avenue – Washington Nationals
The Royals, Jays, and Nationals have all been picked to have breakout seasons in 2012. And while these teams are at least one year, or in the case of the Jays a different division, away from competing for a playoff spot, I'd be willing to bet that most Monopoly winners make more money off of the oranges than they do either Boardwalk or Park Place.
Red (avenue of longshots and dreams)
Kentucky Avenue – Miami Marlins, Illinois Avenue – San Francisco Giants, Indiana Avenue – Cincinnati Reds
When you get to the reds it's time to play for keeps. I expect all three of these teams, the Marlins, Giants, and Reds, to make the playoffs but don't feel as if any will contend beyond the divisional round. These teams are all excellent examples of how weak the National League is this year. None of three would make the playoffs if they were in the American League.
Yellow (anything less than a championship)
Atlantic Avenue – Philadelphia Phillies, Ventnor Avenue – Texas Rangers, Marvin Gardens – Detroit Tigers
I for one have always wanted to know more about the etymology of Marvin Gardens. Is it really named after a guy named Marvin? If so, what was so nice about his garden? In any case, the yellow block treads on very perilous territory given its close proximity to the Go To Jail space. The Phillies, Rangers, and Tigers could easily find themselves behind bars this season if the injuries mount and Miguel Cabrera continues to field ground balls off of his orbital bone.
Green (crowd pleasers)
Pacific Avenue – Boston Red Sox, North Carolina Avenue – Los Angeles Angels, Pennsylvania Avenue – New York Yankees
The green properties are a nice, relatively inexpensive alternative to Boardwalk and Park Place. Some players may even tell you that they prefer the green monopoly over the blue. There is however nothing cheap about the Red Sox, Angels, and Yankees who all end up spending, and making, more money than just about any other MLB franchise. But all the hotels in the world can't make up for a lack of starting pitching depth, flawed lineup, and an overly contentious manager.
Blue (the names say it all)
Park Place – Los Angeles Dodgers, Boardwalk – Tampa Bay Rays
It's official, I've caught Dodger fever. And why not? There isn't another National League team that really jumps off the page plus after years of playing under the dark shroud of the McCourt's, Chavez Ravine will finally become an enlightened destination under the stewardship of new owner Magic Johnson. And for the Rays, I'm picking Tampa to win the whole thing in 6 games. Love their young pitching. Love Desmond Jennings. Heck, I even love Joe Maddon's shorts.