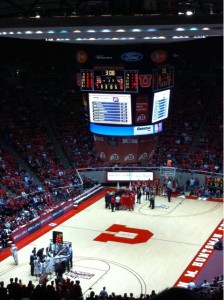 As Jerry Seinfeld once said: "Slapping hands is the lowest form of male primate ritual." We here at VMS fully support the high five and believe it has a clear and important place in this world.  In our latest set of 5 questions, we asked close personal friend, and Seattle native, Ben aka "The Boz" what he thinks about his Seahawks and their glorious run to second round of the NFC playoffs.
VMS: On a scale of Nirvana "Nevermind" down to Mudhoney "Superfuzz Biggmuff", where does the Seahawks playoff victory over the Saints rank on your all time list of Seattle memories?
The Boz: Really high.  I honestly think this was a solid Pearl Jam "Ten".  Ten was a seminal, accessible album for the Seattle sound, and is a real classic – plus it was during Vedder's pre-soapbox years, so that's an immediate plus.  Saturday's moment wasn't quite "Nevermind" (doesn't yet have the depth of 2005, 1983, 1995 Mariners), but still an epic moment which everyone outside of New Orleans loved, and it will be remembered for a long time by 'Hawk fans.  Far above Superfuzz Bigmuff – but I've only heard that album once.
VMS: Did it take much to convince your wife to name your next child "Marshawn"?
The Boz: I think she was so excited to get me off of "John Cougar" that "Marshawn" was a relatively easy sell.
VMS: Tell the truth, part of you is kind of hoping Charlie Whitehurst has another opportunity to "resurrect" the Seattle offense.
The Boz: No way. Not this season, and maybe never.  Clipboard Jesus may be the next great 'Hawks QB, but I kind of don't think so.  He managed the Rams game semi-competently, but anyone can look like Joe Montana when they actually go to their checkdown instead of floating balls into double coverage, which was Hasselbeck's M.O. for the 10 weeks preceding Saturday's unconscious performance.
Either way (and this may not be a popular opinion right now), I think it's time the 'Hawks pull a Dave Krieg on Hasselbeck and let him walk before the wheels start coming off the bus.  It sucked to see Krieg in a Chiefs uniform in the early-90s, but we had to pull the band-aid off.  It feels like we're getting there with Hasselbeck.  I'm hoping that by some miracle we can land Andrew Luck in the 2012 draft.
VMS: If the Seahawks lose to the Bears this Sunday, does their playoff run still take some of the sting out of the SuperSonics departure to Oklahoma City in 2008?
The Boz: No. I can't go too far down this road because it's still really soon, but suffice it to say that losing Seattle's longest-tenured professional sports franchise was a bitter pill.  I refuse to acknowledge the existence of the Oklahoma City team, and I barely acknowledge the existence of Oklahoma City itself.
VMS: Last question, Seattle weather….bad as advertised?
The Boz: I don't believe so.  Rainy winters, but the summers are nothing short of glorious.  Just got back from a 10-day trip to the Emerald City, and there was measurable precip 7 out of 10 days, Dec. 20-30.  So there's your objective metric.  Not too bad, but definitely not sunny and nice either.
______________________
There you have it.  Thanks to the Boz for taking time out of his busy schedule to answer our questions.  He has promised VMS a free month of fresh/hot hand delivered coffee if the Seahawks pull off another miracle and beat the Bears this weekend. Go 'Hawks!!!
Share your views.