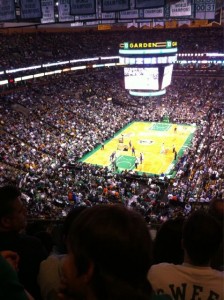 Billy Crystal couldn't have been more correct. Marv Albert is still the best around. Having him call the first two terrific games of this Celtic/Knicks playoff series is a real treat, one that we should appreciate while we can. At one point, Marvelous compared Carmelo Anthony's Herculean effort in Game 2 (42 points, 17 rebounds, and 6 assists) to that of all time New York Knickerbocker great Bernard King. I thought Anthony played his absolutely butt off last night (see 17 rebounds) which was very refreshing because basketball needs it biggest stars to be its hardest workers (see Kobe, Lebron, & Wade). A big part of me feels however that Melo thrives as the "lone wolf" and will continue to demand the ball/disrupt the Knicks offense even when Amare and Chauncey return from injury.
The second great Marv moment from last night came late in the 4th quarter when New York was forced to play a unit that consisted of Roger Mason Jr., Bill Walker, Jared Jeffries, and Toney Douglas. Albert said that if this were a pickup game people would not believe that the two sides were chosen fairly. The talent discrepancy was monumental but the Knicks STILL had a chance to win it if Mike D'Antoni actually knew how to properly diagram a play coming out of a timeout.
With a 2-0 series lead, the Celtics and their fans can exhale as they travel down the Metro North corridor to MSG for games 3 and 4. Serious concerns remain for this Boston team however especially given their age and lack of depth. Why was Paul Pierce guarding Carmelo down the stretch when Jeff Green was brought to Boston with the tacit understanding that he would be guarding the best SF/SG on the opposing team?