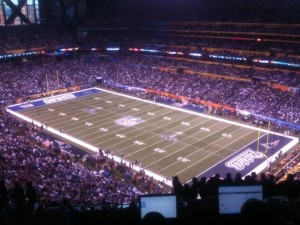 At least now I can go back to rooting against Boston teams for the next 7 months. Also, I hope this second Super Bowl loss to the Giants in 4 years means the Patriots can finally switch back to their throwback Pat the Patriot uniforms. For New York, Mario Manningham now enters the lexicon right beside David Tyree. And Is Eli Manning really this good or just lucky? Does it even matter?
Tough to narrow it down to a single play for the New England offense, although an injured Gronkowski playing at 50% max capacity didn't really enhance their chances. Tom Brady missed a few opportunities downfield during the 4th quarter and Wes Welker didn't help out much either. At least we know Brady will be able to luxuriate comfortably in his 22,000 square foot mansion.
Finally, where was Rooney Mara, niece of Giants principal owner John Mara? Lisbeth Salander was about the only thing that could have saved the Lombardi trophy presentation.
Monday morning is going to be much longer than usual.
view from Indy courtesy of @davidsmoak