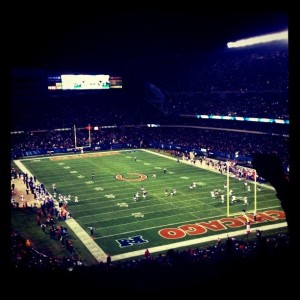 Before diving into Week 6, a few simple words, Peter King style, about my local Starbucks barista. Yesterday morning, en route to some family apple picking, we stopped at a nearby Starbucks to grab a couple of caffeinated beverages. The barista, who we'll call "Kim", called out my wife's grande vanilla latte but not my drink. A minute or so passed and Kim had yet to complete my order. When I asked her about the status of my pumpkin spiced latte she responded quite glibly by telling me that my drink was in her "queue" and that she would get to it soon. Excuse me? Your queue? Since when did Starbucks turn into a Netflix? I may be overreacting a bit here but I that's just because I did not expect to hear such language at 9 in the morning. I was so perplexed by her choice of words that when Kim did finish my drink I had totally forgotten about having to wait a few extra minutes.
Quick Snaps
49ers 25 Lions 19 – Let's start with what all fans, casual and hardcore alike will be talking about this morning and that is the head coach fight that could have been between the 49ers Jim Harbaugh and the Lions Jim Shwartz. Just in case you haven't seen it yet, behold, it's a thing of beauty. Personally, my favorites two parts are 1) when in his youthful exuberance, Harbaugh comes pretty darn close to starting a strip tease and 2) all the players standing around, jarring at one another with their helmets off. That would have been a perfect time for an Ndamukong Suh right hook.
Here's hoping that today's intrigue carries over into the first round of the playoffs when San Francisco, winner of the west, hosts Detroit, wild card.
Raiders 24 Browns 17 – With Jason Campbell out indefinitely due to a broken collarbone, who do the Raiders call upon to take over at QB? Kyle Boller, the current heir apparent, hasn't been any good going back to his days in Baltimore when Brian Billick use to sing his praises. Last night, Sheftie tweeted how he thought David Garrard would be a perfect candidate to take over in the Bay. Here's an idea, why not take a look at rookie Terrelle Pryor? Probably not enough experience/pocket presence for a team smack dab in the middle of an early playoff hunt. To bad Al Davis in no longer with us because I bet he would start Pryor over Boller in a nanosecond.
Falcons 31 Panthers 17 – It remains really silly of me to listen to advice when picking NFL football games. For instance, everyone, from Bill Simmons to Mike Florio, kept telling us that Cam Newton was the "king of backdoor covers" and that the Falcons will continue their early season swoon on Sunday when they host Carolina. I should have known that with so many knowledgeable football people on the Panthers (+4.5) that the correct thing to do was stick with my gut and take Atlanta to cover in what was a must win game. Unfortunately, I caved and now sit one game behind the lead in my weekly picks pool.
Patriots 20 Cowboys 16 – If there's anything people can't stand more than hearing about other people's gambling woes, it's hearing about other people's fantasy woes. Which is why I don't feel like wasting your time with how upset I am that I started Felix Jones at RB this week. It's just that Jones is like a bad penny, every year round 5 rolls around and there he is, so full of promise and upside. Today against the Patriots, my fantasy frustration came to fruition once again as Jones rolled an ankle, leaving the game in the first quarter never to be heard from again.
view from Soldier Field courtesy of @annareadsbooks