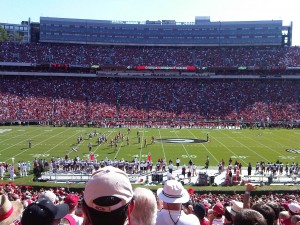 I was all set to talk about how my friend Chip went down to Athens, Georgia for some good old fashioned SEC football between the Bulldogs and the South Carolina Gamecocks, and then the US Open men's final between #1 seed Novak Djokovic and #2 seed Rafael Nadal happened. Not to take anything away from Chip's experience "between the hedges" – by all accounts it was a once in a lifetime experience highlighted by a unannounced trip to a sorority and plenty of hearty tailgating in "the grove" – but the effort and skill on display in Ashe Stadium Monday afternoon into night was impossible to overlook.
In the end, last night was one of the few sporting events where it really didn't matter who won the match, both were equally deserving of the honor. By far the most compelling aspect of this US Open final was the physical and emotional exertion put forth by these two world class athletes. I was tired out just watching the match from the edge of my couch, tipping and tilting my body with every long rally. How these two players didn't strain every single muscle in their bodies is beyond me. If it were me on the court last night, I would have needed a week in a hyperbolic chamber to recover from that 4.5 hour marathon.
So Chip, thanks for the view from Sanford Stadium. I still want to know what brought you to Athens in the first place and how in the world you ended up on the 50 yard line. I guess you've spent enough time now south of the Mason-Dixon line to warrant inclusion into the world's largest cocktail party.