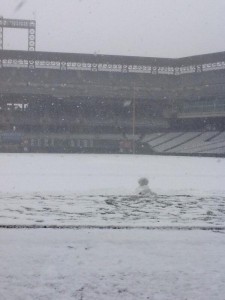 First off, I'd like to offer the fine folks of Boston and all those directly affected by the tragic events of yesterday's horrific bombing at the Boston Marathon my sincerest thoughts and prayers. It's times like yesterday that human beings must bond together and overcome these now all too common, senseless acts of violence and destruction. Always remember that the good more than outweighs the bad and for visual evidence look no further than those first responders yesterday on Boylston Street who tore down fencing and ran into the fire to offer whatever assistance they could to those seriously injured by the blast. Out of heartbreak comes great strength so while we weep for those families and friends coping with a tragic loss this morning our spirits are buoyed by overwhelming acts of kindness and bravery that surround us everyday. Humans are a resilient species and just as the Boston Marathon remains the ultimate test of endurance we will persevere with kindness, tolerance and love.
Round Tripping
1B: The Atlanta Braves are off to the fastest start in MLB thanks in part to the exploits of rookie catcher, and modern day Dean Moriarty, Evan Gattis. Do yourself a favor and read David O'Brien's piece from the AJC on the Kerouacian journey of the Braves slugger who experienced several years alone on the road before making it to the bigs. Gattis is only part of the reason for Atlanta's early season success with offseason acquisition Justin Upton providing some much needed firepower during their recent streak which includes a three game sweep of preseason NL East darlings the Washington Nationals.
2B: Weather, or should I say scheduling, has been a factor during during this very young baseball season. The New York Mets in particular have been affected by two snow storms, one in Minnesota and one in Denver, and will be forced to make up these games at the end of the next ice age. Why MLB schedules an April interleague series in the snowy Twin Cities defies logic especially when the Mets weren't scheduled to return to the frozen tundra this season. The only good news for the team is that perhaps all these postponements will lead to more Matt Harvey, who dare I say has become the most exciting pitcher in baseball.
3B: What's up with the Anaheim Los Angeles Angels? Is this simply a case of cast of stars learning how to coexists or a distressing lack of pitching depth exacerbated by the loss of staff ace Jered Weaver? Ken Rosenthal does a nice job exploring the depths of owner Arte Moreno's patience while his ball club wallows in the AL West basement, percentage points behind the light hitting Houston Astros.
HR: MLB is honoring Jackie Robinson's legacy this week and it is an important time once again to remember the impact he had on not just baseball but race relations in this country. When I was a young baseball I looked up to Robinson not just for his courage and grace but for the way he played the game. I use to love watching those old highlights of him stealing home during the Brooklyn Dodgers World Series triumph over the New York Yankees in 1955. (just look at how pissed Yogi gets!!!) I'm hoping to catch 42 this weekend as Robinson remains an inspiration and source of great national pride to us all.