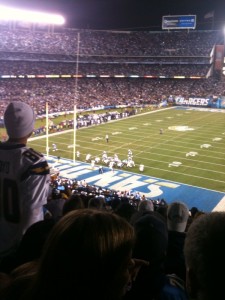 Quick Snaps: NFL Week 15
Dolphins 30 Bills 23 – By the time this game got interesting, the upper deck of Ralph Wilson Stadium had already cleared out and Reggie Bush was closing in on over 200 rushing yards. Even though Bush has had a solid season, I bet his old team the Saints are quite pleased to have 3rd down specialist Darren Sproles instead.
Saints 42 Vikings 20 – Speaking of New Orleans, QB Drew Brees is now only 304 passing yards away from breaking Dan Marino's single season record of 5,084 set back in 1984. His performance against the Vikings, 412 yards and 5 TD's, probably pulls hims just about even with Aaron Rodgers in the race for the NFL MVP.
Chiefs 19 Packers 14 – And while we're on the subject of Rodgers, good for Romeo Crennel and the Kansas City Chiefs for ending Green Bay's bid at a perfect season. And judging by the Chiefs reaction following the final whistle, it feels good to be free from the petulant gaze of recently fired head coach Todd Haley.
Seahawks 38 Bears 14 – Remember during last years NFC Championship game when we all thought Caleb Hanie could be the long term solution for the Bears and an injured Jay Cutler? Yeah, about that. Might be time to start reexamining the entire quarterback depth chart in Chicago. Maybe even think about giving Donovan McNabb a call, he's got some free time.
Colts 27 Titans 13 – I called it! Well, sort of. I mean, I figured it was going to at least be close. But thanks to two former UConn Huskies, Dan Orlovsky and Donald Brown, Indianapolis gets off the schneid and can now begin focusing on trading Peyton Manning to the, gulp, Cowboys!?!
Bengals 20 Rams 13 – St. Louis has a ton of problems but I do not see how giving up on QB Sam Bradford is part of the solution. Unless of course you use a top pick on Robert Griffin III and unleash The Greatest Show on Turf version 2.0.
Redskins 23 Giants 10 – Pardon the Gmen for treating MetLife Stadium today like their own personal lavatory. That's the kind of stench that lingers.
Panthers 28 Texans 13 – I love a good fumblerooski. That's the kind of stuff we use to pull during recess. And for Houston, I guess Wade Phillips is really that important to the defense.
Lions 28 Raiders 27 – Megatron both won the game for Detroit and preserved, potentially, my fantasy football season. You'd have thought the Raiders would have put a man or two on him late in the 4th quarter.
Patriots 41 Broncos 23 – While we all rest our #teboners for a second, it's quite possible that the two best tight ends in the NFL play on the same team. The pairing of Aaron Hernandez and Rob Gronkowski needs a nickname. How about "Smash and Dash" or "Snake and Chopper"?
Eagles 45 Jets 19 – I can't believe this Philadelphia team still has a legitimate shot at making the playoffs. Andy Reid is like an old pair of underwear that just keeps turning up in your dresser.
Cardinals 20 Browns 17 – Would the Arizona front office look stupid if they cut ties with Kevin Kolb this offseason? The way I see it, things are going just fine with John Skelton leading the show in Glendale.
view from Qualcomm Stadium courtesy of @AnimalFarmMag