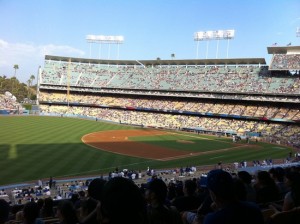 Some folks boast a photographic memory while others claim to count cards. Me, I have a strange telekinetic ability to predict the plot of a movie based solely on the coming attraction. I will channel these talents every week in an effort to breakdown the latest summer blockbuster. With a little luck, and patience, I'll also connect the movie to a current sports story however, this final pursuit may result in complete and abject failure.
Horrible Bosses
We try to make it so that the highest grossing film of the coming weekend is the preview dissected on our Tuesday Plodding Through the Previews post. Today was an exception however because I just could not lower myself to a critical analysis of the sure to be summer sensation Zookeeper starring Kevin James. Instead, we're going to take a closer look at Horrible Bosses, which on the surface, looks like a preview much more in line with my delicate sensibilities.

A second by second breakdown of the preview
:5 – I wonder if Kevin Spacey is pleased with his post American Beauty career arc? After a string of successful gigs – Usual Suspects, Se7en, American Beauty – it feels like he has drifted off into relative obscurity while working on several pet projects  like Beyond the Sea. Maybe Spacey's role in Horrible Bosses will catapult him into a new genre of comedic roles a la Robert De Niro in Meet the Parents.
:22 – With Jason Bateman, Charlie Day, and Jason Sudeikis, we could have ourselves one of the most bankable starting rotations since the days of Palmer, McNally, Dobson, and Cuellar with the Baltimore Orioles.
:38 – When are we going to start giving Colin Farrell some credit for being a pretty good actor? In Bruges was awesome and it just feels like the guy takes a ton of crap for being a good looking guy with great hair and an awesome Irish accent.
1:11 – Hey look, a Jennifer Aniston movie that just might not suck.
1:26 – Jamie Foxx playing a "murder consultant". He really has come a long way since winning the Academy Award for Ray.
1:35 – More people should be watching "It's Always Sunny in Philadelphia" on FX. Charlie Day, not Jason Sudeikis, is poised to be the breakout star of this film. My only hope is that he doesn't commit career suicide by signing on to be the comedic sidekick in the next Brett Ratner good cop/bad cop movie. Where's Seann William Scott when you need him?
1:58 – Gotta applaud the effort.
2:23 – Tater Salad and Bunk playing cops. I hope this is set to be a spinoff next summer.
The Plod (where I guess the plot of the movie based solely on the preview)
Bateman, Day, and Sudeikis all want to kill their horrible bosses – Kevin Spacey, Jennifer Aniston, and Colin Farrell respectively. Because they're all "nice guys" who wouldn't know the first thing about murder, they hire a "murder consultant" to help them explore their villainous options. Of course, all kinds of hijinx ensue as the 3 best friends fail over and over again to execute any sort of successful murder. Along the way, Sudeikis falls for Aniston and the two become romantically involved while Kevin Spacey turns out to be not such a bad guy after all, just a little misunderstood and lonely. Not only does he give Jason Bateman that much desired promotion but the two spark a lifelong friendship built on trust and respect. The only "boss" I worry about actually losing is Colin Farrell. I could see some sort of accident befalling him, completely unrelated to anything the 3 friends conspired to do.

Connection to a Current Sports Story
Is there a worse boss in professional sports than Frank McCourt, the soon to be deposed owner of the Los Angeles Dodgers? Here's hoping that MLB gets in there and cleans up this embarrassing mess as quickly as possible. The Dodgers remain one of the flagship teams in MLB and need to end up in the hands of an owner who knows and understands how to successfully operate a professional sports franchise. But the question is, will Bud Selig allow Mark Cuban to ever own a MLB team? Hopefully the Dallas Mavericks successful title run in 2011 shows people that Cuban is interested in winning above all else and wouldn't alter the integrity of the game. His energy and passion would be a great boost to the Dodger clubhouse and all of Chavez Ravine.