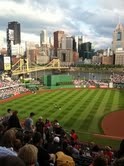 My buddy Brownie* visited PNC Park over the weekend to watch the Pirates take on the Boston Red Sox. He sent me this view from his seats and told me that yes, those buildings in the background are in fact real and spectacular. He went on to say that the Pittsburgh skyline borders on hypnotic and that when you watch a Pirates game from the upper deck of PNC Park, you can't help but stare at the Clemente Bridge and the tall buildings behind. He equated it to a Cowboys game at the new stadium in Dallas where fans can't help but be distracted by the massive jumbotron hovering above the field.
*It's true what they say, every group of friends has someone called "Brownie" and "Murph".
I have to admit, I'm starting to develop a bit of a "fan crush" on Pittsburgh and the Pirates. The Steel City has emerged as the hippest port of call between New York and Chicago – sorry Cleveland – for young professionals in their late 20's/early 30's. With a strong university system, gobs of entrepreneurial spirit, and affordable housing, Pittsburgh has everything that a wayward soul with latent ambition could possibly ever need. Think about it as grittier version of Portland, Oregon.
The Pirates are quietly becoming my National League team. As a Baltimore Orioles fan, I have empathy for the plight of the Pittsburgh Pirates fan base and share their longing for a winning season. With loads of young talent, Andrew McCutchen as the centerpiece of this youth movement, and a beautiful ballpark, this is a team that should be able to turn things around, if ownership ever becomes willing to invest money in improving the quality of their on the field product.
Hopefully the great migration of "coasties" who have abandoned their studio apartments in Red Hook for a new lease on life in the Steel City will be able to go out to PNC Park and watch a winner sometime in the near future.