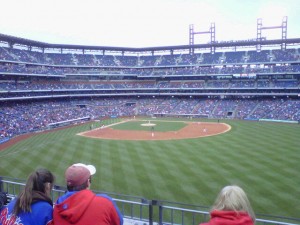 2011 Philadelphia Phillies
NFL Equivalent – Baltimore Ravens: And the Mid-Atlantic is alive and well!  The Ravens made a name for themselves during the last decade with a lights-out defense that put the fear of god in opponents.  To me, nothing was more terrifying on a Sunday night than hearing Fabolous open the broadcast, Mike Patrick crowing about "guys flying around the field", and seeing Ray Lewis and Ed Reed wearing all black.  That fear returned this past season, and, with a possibly historic starting rotation in Philly for 2011, the NL East is already a bit a quiver.  Both sides have home run hitters in the Ravens' RB Ray Rice and the Phillies' 1B Ryan Howard.  With strong fan bases and relatively new stadiums, this comparison—for once—actually makes some sense.
Google Search: The Phillies very much held ground this offseason, with one rather notable exception.  P Cliff Lee is here to firm up a starting rotation that already featured three All-Stars….. and Joe Blanton.  OF Jason Werth is gone, replaced by the handy Ben Francisco, who is actually a typical "Skoal Guy": great in a pinch, but rather unpleasant when left in for too long. The Fightin' Phaithful can also exhale, after the announcement that 2B Chase Utley's opening day replacement will be IF Wilson Valdez, and not, after all, Luis Castillo.
Famous Movie Quote: Forget everything you've seen on television and in the movies. – Denzel Washington from Philadelphia.
In the case of the '11 Phillies, this may actually be apt.  With a staff anchored by two horses in Roy Halladay and Cliff Lee and buffeted by Roy Oswalt and Cole Hamels—two righties and two southpaws, if you're scoring—and a battle-tested clubhouse, this team could make a run at the record books.  They are, nearly, to a man, the same team that won the NL East easily last year.  They have an American League lineup with speed at the top, thunder in the middle, and a bunch of pests at the bottom.  OF Shane Victorino is a guy that just about everyone would kill for to have in their team's lineup, and might STILL be the most underrated player in the game.  Lots of pundits are predicting that the Phillies' weakness lies at the back of their bullpen, where closer Brad Lidge will be set up by RP Ryan Madson and RP Jose Contreras. 2011 record: 102 – 60; 1st Place NL East