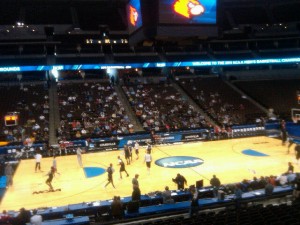 Denver, CO – Pepsi Center (March 17th & 19th: Rounds 2,3)
Why your dad likes Denver: My 58 year old father use to fashion himself somewhat of a downhill skier, although I can't remember the last time he took to the slopes. He loves traveling out west but usually sticks to the National Parks of Montana and California. At one point in his life my dad had a boss who was a co-owner of the Broncos and he was able to travel to San Diego to watch Timmy Smith, Doug Williams and the Washington Redskins run all over the Broncos in Super Bowl XXII.
Signature food/drink: Coors has got to stop running those NFL coach press conference mashups with Herm Edwards, Jim Mora, and Mike Ditka. What ever happened to Pete Coors? I use to love those ads where he was knee deep in powder talking about how his grandfather learned how to brew from his great grandfather who just happened to "buy" his Rocky Mt land from the Apache.
College basketball history: My favorite player from UNLV's 1990 National Championship, played in Denver, team was Stacey Augmon.  I loved Augmon for several reasons including his great intangibles -defense and rebounding – , prolific dunking ability, and great nickname "Plastic Man". All the talk recently has been about ESPN's Fab Five doc but I thought the Running Rebels show on HBO was much better.
Bracket Predictions: 2nd round – (5) Vanderbilt over (12) Richmond, (4) Louisville over (13) Morehead St., (6) St. John's over (11) Gonzaga, (3) BYU over (14) Wofford 3/19 – Louisville over Vanderbilt, BYU over SJU