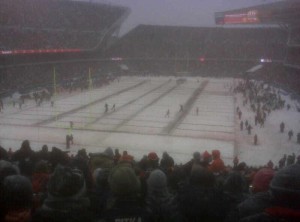 As a Patriot fan, I couldn't ask for much more. New England goes to Chicago and destroys the NFC North leading Bears 36-7 while back east, Miami surprises the Jets by a final score of 10-6.  The Pats have now clinched an AFC playoff berth and lead the AFC East by two with only three games remaining in the regular season.
Watching the blizzard unfold in Soldier Field today was a lot like flying through space on the Millennium Falcon.  (Star Wars note: I always wondered how it was possible that they never crashed into a planet or star while in hyperdrive.) This view comes from Laura, a Patriot fan who flew out to Chicago for the game and will not by traveling home disappointed. Different story for my wife's family, who are from Chicago and have supported the Bears since before George Halas.
So Chicago, Bears still the favorites to win the NFC North or is today a harbinger for things to come? Share your views.