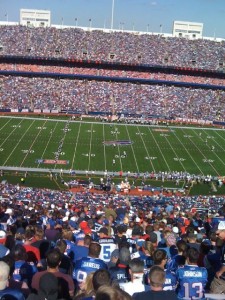 Every bit as good as the day it was made.
i – I'm happy for Western New York, it's been a long time since people traveled to Niagara Falls to celebrate something other than a shotgun wedding. I am however dreading the inevitable Chris Berman/Ryan Fitzpatrick Ivy League slobberfest that is bound to make the front page of both the Harvard Crimson and The Brown Daily Herald. Having been rejected from multiple Ivy League schools I can tell you that the Colby Echo has every bit the journalistic integrity as any Ivy daily. Oh, and the Patriots won't win another Super Bowl until their pass rush improves and they establish a consistent running game. And Chad Ochocinco couldn't catch a cold.
ii – Last night, during what seemed like an innocent third down play, Curtis Painter turned very flush and there was a moment where I worried he was going to need to be revived on the field. Between his beet red face and the long curly Spicoliesque blond locks, he looked like a either a Cold War era East German bank robber or a villain in the first Die Hard movie. Also, NBC had a Manning problem last night.
iii – San Diego continues to do just enough to get by. The Chargers are like a college student, showing up to class 5 minutes late and hungover while working hard enough to earn that C+. Never before have I agonized over a lock pick like when the Chiefs brought the score to 20-17, and then had a chance to tie or take the lead in the closing moments. There is also zero doubt that Kansas City is going from first to worst in the AFC West. The only question facing the Chiefs this season is how long before Dexter McCluster becomes the best selling jersey in all of Missouri.
iv – Peyton Hillis wasn't allowed to play with the other boys this weekend due to an aggressive case of strep throat. Was his being sent home a case of what was best for Hillis or maybe his teammates? As it turns out, the Brown didn't really need the help, dismissing the Dolphins in the final minute of play. Here's hoping Peyton is feeling better while convalescing over a steaming cup of camomille.
view from Orchard Park courtesy of @Paul_Barone