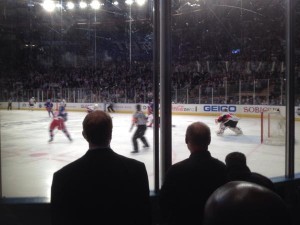 Thursday night was a big night in the Big Apple as both game 7 of the Rangers/Senators NHL playoff series and round 1 of the 2012 NFL Draft are set to start at roughly the same time.
On the surface, it might not seem as if there are many similarities between these two major sporting events. However, if you look a little closer I think what you'll find is that they share much more in common than you would have originally thought.
As I recount the action from both Game 7 and the NFL Draft, see if you can guess which sporting event I'm talking about.
————–
7:01 – Participants enter the arena on a scuff free red carpet to avoid any dings to their all important footwear.
A – NFL Draft: Since when did the NFL Draft turn into the Grammy's? The crowd outside of Radio City looks like something you would find at a movie premiere. Looks like a good night to avoid Midtown Manhattan. Meanwhile, head a few blocks down 7th Ave and we're only minutes away from start of Rangers/Senators game 7. My bandwagon beard hangs in the balance.
7:08 – Attendees are being interviewed before the main event begins. These jocks remain the most humble, honest athletes in all of professional sports.
A – Game 7: Hockey players are such great interviews because of their congenial humility and self deprecating sense of humor. Football players are a close second. Baseball and basketball players lag well behind.
7:13 – Public enemy numero uno serenaded by the fans with the first "ASS-HOLE" chant of the night.
A: Game 7 – Give it an hour and these chants will be directed by Jets fans at NFL Commish Roger Goodell. For now, it seems Chris Neil has a way of bringing out the best in Rangers fans. For all his thuggery and hard nosed play, Neil has also been a difference maker on the offensive end this series. If the Rangers go on to win this series I hope Brian Boyle recovers in time to play against the Capitals.
7:20 – Great energy exhibited by all parties involved.
A – Game 7: First break in the hockey action reminds me of what an exhausting competition the playoffs are to watch on television. They barely even give you enough time to go to the bathroom. Speaking of energy or lack thereof, Bill Belichick was just interviewed on NFL Net and he looked like he was being held captive in the Tora Bora region of Afghanistan. For all we know he could have been discussing the terms of a hostage release instead of what the  Patriots are planning on doing with their two first round draft picks .
7:46 – Former star now fashion icon takes center stage.
A – NFL Draft: As much as I love Ron Duguay's flair for the dramatic, no former professional athlete turned talking head sets the trends quite like Deion Sanders. Speaking of Prime Time, I'm surprised he was able to keep his composure during the telecast what with all the current commotion in his life.
8:07 -Here is one rookie who is guaranteed to make an immediate impact.
A – Game 7: Nothing against top pick Andrew Luck who, according to most pigskins soothsayers has all the requisite "measurables", but the first year player generating the most buzz tonight is Rangers rookie forward Chris Kreider. And remember, it was only a few weeks ago that Kreider was still popping pimples in his Chestnut Hill dormitory. Second period has also just gotten under way and we're still knotted up at double goose eggs.
8:10 – A young man in blue takes one giant step closer to Washington DC.
A – Game 7: Marc Stahl puts the Rangers on the board first with a nice looking one timer past Anderson. Meanwhile, RGIII to the Redskins is now official. Have to respect Griffin for his popsicle inspired blue raspberry sport coat.
8:26 – Commentator just referred to a player as a "pocket rocket".
A – NFL Draft: No, this was not Sam Rosen referring to Maurice Richard. Mike Mayock apparently has nicknames for all players involved in the draft. "Pocket Rocket" refers to Baylor WR Kendall Wright who must now spend the majority of his rookie season in the NFL fighting to regain some measure of street cred.
8:36 – Nepotism on full display in the owners box.
A – NFL Draft: Was that Jerry Jones grandson lurking in the background of the Cowboys war room? Also, who thought it was a good idea to put cameras in these NFL team conference centers?  Might as well be showing us video from the main ballroom of the Radisson in Humboldt, Texas.  Of course Cowboys head coach Jason Garrett had a shit eating grin on his face after Dallas traded up to #6 for LSU corner Morris Claiborne. Back to MSG, Rangers maintain 2-1 lead after nice looking goal by the Senators Daniel Alfredsson.
9:00 -Some sporting events are just easier to follow on twitter.
A – NFL Draft: One of the more startling, albeit not that surprising, trends from the 2012 draft was that twitter consistently scooped the television broadcast. Most picks were announced in 140 characters or less nearly 5 minutes before Roger Goodell sauntered to the podium. Still doesn't change the fact that the NFL Draft will draw a much higher television rating in NYC than the hockey. Football is king after all.
2-1 Rangers early in the 3rd but the action is starting to heat up. Chris Neil continues to finish his checks while back in Radio City some guy named Dontari Poe nearly makes out with Goodell.
9:24 – ACCESS DENIED!!!!!
A – Game 7: Hank is coming up huuuuge for New York. Anticipating the puck beautifully and denying Senators on the doorstep. 5 minutes remain and this one is coming down to the final whistle. Speaking of access denied, upon being drafted #13 by the Arizona Cardinals Michael Floyd takes a call on his mobile. I thought the NFL banned cell phones in the green room?
9:35 – Extended handshakes and hugs lead to a delay in post game programming.
A – NFL Draft: While it's true that there is nothing in sports more honorable and authentic than the post NHL playoff series handshake, things are really getting out of control in Radio City. On average I would guess that each draft pick has taken approximately 5-10 minutes to hug and gyrate with every member of their constituency. At this rate the 2nd and 3rd round will take place simultaneously.
Up next for the Rangers are Alex Ovechkin and the Washington Capitals. Should be a fun series. My bandwagon beard rejoices!
view from MSG courtesy of @alanhahn