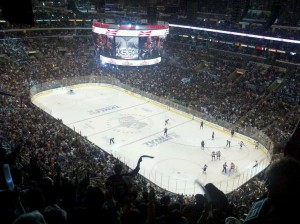 Thunder in 6. Oklahoma gets its first championship since the Josh Heupel led Sooners won the BCS Championship back in Y2K. Kevin Durant is your finals MVP outplaying a physically exhausted LeBron James who begins to look like Quasimodo after carrying his Heat teammates, including Dwyane Wade, through the Eastern Conference Finals. Basketball is a team sport after all and there is only so much the most physically talented player in the world can do on his own before requiring a little help from his friends. The Thunder Triumvirate of Durant, Russell Westbrook, and James Harden have clearly defined roles and typically lack the sort of conceit that could inspire a hostile takeover and change Loud City from a republic to a dictatorship.
Speaking of an iron fist, OKC fans are lucky Michael Bloomberg is not in charge of their arena.  There's a reason Thunder fans have gone gaga for their team and it's a combination of vacant social calendars and the consumption of copious amounts of sugar and caffeine. Enter liberal meanie Mayor Mike and what would Loud City do without their super sized caramel macchiato from Angie's Bakery or 850 calorie hushpuppy basket from Blue Harbor? It'll take more than whole grains and green tea to quiet the Chesapeake Energy Arena as the Thunder will be able to ride their boisterous crowd all the way to the victory parade past the stockyards.
But the main event or marquee matchup that everyone is talking about is LeBron vs Durant. A quick glance at the tale of the tape and this showdown could be much closer than we even realize. Both are deadly scorers with LeBron being most lethal in the transition while KD is an absolute assassin coming off a high screen and occasionally stepping back to drain a demoralizing three. James is the superior athlete but Durant fans shouldn't think this a slight as it is a unsubstantiated rumor that LeBron is in fact an android sent back in time by Cyberdyne as part of an elaborate gambling scheme involving John Connor, Bob Arum, and Top Rank Promotions. If they end up guarding one another then KD's theater curtain length wingspan could very well block LeBron's view of the basket but then again both players are such good passers that this series will probably come down to the supporting casts.
And this is where OKC has the advantage. The Thunder's second unit, led by James Harden and his Karl Marx inspired facial hair, will be able to hold it's own against even the Miami starting 5 which means LeBron and Wade cannot afford to take their normal rest for fear that the Thunder subs would run all over the Miami bench. By game 3, when the series shifts back to South Beach, the Big Three will need to borrow oxygen masks from the fine folks over at Del Boca Vista just to get through the half.
A lot of coaches and commentators have been arguing that OKC's clunky bigs like Kendrick Perkins are going to have a time time keeping up with LeBron and Wade and if you can make the Thunder smaller then the matchup favors Miami. Serge Ibaka is not a clunky big and his shot blocking ability should make it harder for the Heat to get to the basket. That is of course if the refs let them play which is such a subjective proposition that even your local bookie isn't entirely comfortable accepting your bet.
One thing's for sure, these NBA Finals are bound to be compelling television. And if not, there's always the Euro 2012.