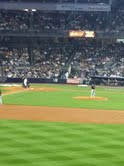 Check out this view from the right field bleachers at Friday night's Orioles/Yankees game. A little further to the right and you wouldn't be able to see left field from your seat. That's because the Mohegan Sun sports bar, that tinted window monstrosity lording over the center field wall, obstructs the view for hundreds of hard working bleacher creatures. What is this, 19 aught 8? A modern day palace that cost nearly a billion dollars to build shouldn't include an entire section of seats where you can't see a part of the field. I'll give Fenway Park and Wrigley Field a pass because they are relics of a simpler day and age where architects didn't have the luxury of blueprints. But not the new Yankee Stadium which has become a testament to all the commercial trappings of baseball what with all it's boutique shops and lounges. A perfect place for a $15 roast beef sandwich!
A Quick Trip Around the Bases
1B – Back to Friday night's O's/Yanks game for a second, if you look closely you can see Jeremy Guthrie on the mound for the Birds. Two quick reactions: 1) it's amazing the Orioles won this particular game because usually they saddle Guthrie, who has been solid again this season, with very little offense making him the quintessential tough luck loser. 2) It was a surprise to many that Guts was still wearing a Baltimore jersey on Friday night. Many experts had him booked on the next flight to Boston, Detroit, or maybe even the Bronx as part of a blockbuster trading deadline deal. But the O's decided to hold onto their veteran "ace" in hopes that he can steward the next crop of young arms in 2012. The Orioles weren't totally inactive this last week, trading away veterans Koji Uehara and Derek Lee to the Rangers and Pirates respectively.  Coming into 2011, who would have thought that either the Orioles or Pirates would have been buyers and that they would be involved in a deal together? Good for Pittsburgh, not so good for Baltimore.
2B – Did you ever think the trading deadline would pass without the Yankees acquiring a superstar? I guess we'll have to wait until the end of August, once the waiver wire closes, to fully evaluate who won/lost this year's version of let's make a deal. For now, the clubhouse leaders are (in no particular order): Rangers, Indians, Mets, Rockies, and Giants. I could have put the Boston Red Sox on this list if I weren't staunchly opposed to the whole Erik Bedard experience. When he pitched for the Orioles a few years back he was more than capable of double digit K's every time he took the mound. The problem for Bedard in Baltimore was that he was equally capable of pulling his latissimus dorsi or, even worse, slowly sulking off the mound in the 3rd inning after being pulled for ineffectiveness. And, are we sure he's even healthy? Or that he's ready to take the ball in a big game?
3B – I could have put both the Braves and Phillies on the list of trading deadline winners, except I'm not quite sure how much of a difference Hunter Pence and Michael Bourn will make heading down the home stretch. Bourn to the Braves makes a lot of sense because he adds a tremendous amount of speed and defense to a lineup that was very well balanced to begin with. I don't really see how Pence to the Phillies makes all that much of a difference. With their excellent starting pitching they were most likely going to win the NL East regardless of the moves they made. All I know about Pence is that he is a versatile player, with power and speed, who also happens to wear only one batting glove. We need someone to compile a list of "Best MLB players to wear only one batting glove". I feel like Pete Rose should be somewhere near the top of that list. Any other suggestions?
HR – Switching leagues for a second, I'll have plenty more to come on the NFL free agent madness later this week but for now here are just a few quick hits. 1) What is Bill Belichick thinking? Albert Haynesworth doesn't enjoy playing football and Ochocinco lost that step two seasons ago. Looks like a couple of desperate moves by a coach driven for at least one more Super Bowl before Tom Brady hands the keys over to Ryan Mallett. 2) Like the Plaxico Burress to the Jets move. Not sure if he still stretches the field like he did before prison but he should help to make up for the loss of Braylon Edwards. Of greater concern to Jets fans should be the loss of Brad Smith to the Buffalo Bills. New York is going to miss the "Swiss Army Knife" and I hope for his sake that Buffalo will figure out a way to take advantage of his wide array of skills.