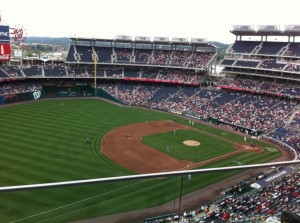 Before we delve deep into the weekend sports menu, a few words on the lack of leadership in our Nation's Capital. And no, for once I am not referring to Democrats and Republicans.
In A League of Their Own Tom Hanks famously said, "There's no crying in baseball". And while this is true, perhaps what he really should have said to the teary eyed Rockford Peach is that there is also no "quitting" in baseball either. It's a lesson now former Washington Nationals manager Jim Riggleman clearly did not listen to when he decided to walk out on his team yesterday afternoon.
I understand wanting job security, and I get how difficult it can be to work for a boss who lacks communication skills. We've all been there. However, if you're Jim Riggleman, how in the world do you give your GM an ultimatum at 1230p, manage your team to an exciting 1-0 early afternoon walkoff victory over the Seattle Mariners, and then, following the game when your GM doesn't immediately offer to pick up your contract option for next year, you quit? What about your players in the locker room? For the first time in their young history, the Washington Nationals were actually playing some pretty good baseball – above .500 in the NL East with an outside chance at the wild card.
This morning, baseball writers are talking about how Jim Riggleman has been a good, respected baseball man who has now done permanent damage to his career in baseball. In the future, will Riggleman be able to stand before a clubhouse and espouse the virtues of accountability, commitment, and honesty? Players will not trust a man who abandoned his previous team over seemingly petulant financial reasons. We expect this behavior from professional athletes who are prone to hold out and demand respect via the restructured contract. But coaches, as leaders, must model the type discipline it takes to maintain a high level of focus and determination that a successful athlete, person must embody. With this decision to walk away from his team midseason, Jim Riggleman has failed on all accounts.
Rant over, on to a rather skimpy slate of weekend sports watching
Wimbledon, Sat: ESPN2 7a, NBC 1p Sun: NBC 2p (tape delayed)
In this the day and age of live streaming, if you're a major network why would you ever choose to air a tape delayed sporting event? Anyone who cares is already going to know the result of the game/match that you are broadcasting. Are ratings that bad in the AM that you can't show these matches live?
NHL Draft, Fri: Versus 7p
Speaking of poor programming choices, Friday night? Versus? See you there.
College Baseball, Fri: ESPN 7p, Sat: ESPN 2p & ESPN2 7p
This could be my choice right here. Have yet to watch much of the CWS so far, but with a lack of other solid options, feel like this could be the best bet for the weekend. Although, without a horse in this race I'll have to choose a favorite team soon. What's the best story remaining the in CWS? Vandy's first ever appearance in Omaha or perhaps a Gamecock repeat?