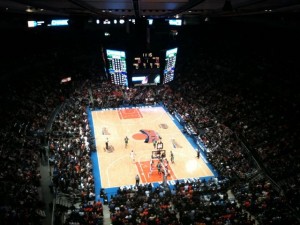 Of course not! Because Rosie Larsen is a fictional character from AMC's new hit series The Killing and Mike D'Antoni is not a homicidal maniac. Some deranged, overzealous Knicks fans probably felt like they could have gone on a murdering spree after watching their team falter in the Garden last night.
In what was billed as the biggest basketball game in New York City in over a decade, the Boston Celtics took the Knicks, and their fans, to the proverbial woodshed. From the start, the game wasn't close. Amare was clearly hurting – bad backs are so hard to disguise – and for some strange reason the much maligned Knicks defense allowed Paul Pierce and Ray Allen open look after open look. It got so bad that I started to wonder if a team has ever fired their head coach at halftime. I can't imagine the Knicks, or Mike D'Antoni, coming back from a 3-0 deficit against the suddenly rejuvenated Celtics.
To be honest with you, I didn't even really watch the 2nd half. Of course I checked in to see the score a few times but last night gave me a perfect opportunity to see why everyone is raving about The Killing on AMC. Going into the pilot I was worried the show was going to be too much Twin Peaks and not enough Seven. After three episodes the show has surpassed my modest expectations and it's safe to say that I'm in for the long haul.
A few other things:
– The best part of The Killing is the time/attention given to developing individual characters. I may only be through the first 3 episodes but I thought the actors playing Mitch and Stan Larsen have done a particularly great job of showing viewers the various stages of grief following the murder of their daughter.
-And who did kill Rosie Larsen? Early odds – Jasper & Chris 3:5, Richmond 4:1, Holder 8:1, and longshot Mitch Larsen 100:1.
-Could this series take place in any other city besides Seattle? The Emerald City is the perfect backdrop for this murky murder mystery. I was however disappointed by the lack of product placement. I figured Linden and Holder would have passed by at least 25 Starbucks by now.
-Finally, AMC and HBO have really cornered the market on television dramas. Waiting to get into HBO's Game of Thrones, which I hear is also excellent, and looking forward to season two of Treme.