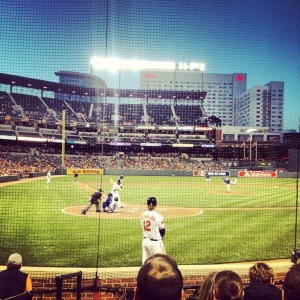 After Josh Hamilton hit his 4th and final home run Tuesday night I couldn't help but feel a deep sense of despair and foreboding. As an Orioles fan Tuesday night was all about reality setting in after what has been an alarmingly hot start for the Birds. Over the first two games of the series, Hamilton and the Rangers brought Baltimore to their knees, completely exposing the team's young, overachieving pitching staff. Tuesday night sadly, and somewhat temporarily, wiped away much of the momentum and enthusiasm gained after a great 5-1 road trip over the Yankees and Red Sox. Now it feels like the Orioles must clean out the cobwebs before spiraling into an all too familiar descent towards another sub .500 season.
As time passed, and Tuesday night turned into Wednesday morning, I realized that by wallowing in my Oriole sadness I was effectively minimizing the historic accomplishment of Josh Hamilton. Whatever you may think about Hamilton the person as he continues to wage a very public battle against the relentless demons of addiction, Hamilton the baseball player deserves a heaping pile of praise and platitudes for becoming the 16th major leaguer ever to hit 4 HRs in a game, the last being Carlos Delgado in 2003. Just to give you a sense of what a rarity 4 HRs in a MLB game is, there have been 20 no-hitters and 3 perfect games thrown over that same span of time. Of the 16 players to hit 4 in one game only 5 (Delahanty, Gehrig, Klein, Mays, Schmidt) have been elected to the Hall of Fame. Hamilton has his fair share of scars but you do not need to understand the person to respect the talent.
Josh Hamilton also has the sweetest swing in baseball, maybe even the best since Ken Griffey Jr was lighting up the Kingdome in the 90s. Hamilton's swing doesn't just look easy and effortless, it IS easy and effortless. Turn on a game and notice all of the current players whose overly mechanized swings amount to the total antithesis of any approach Ted Williams advocated for in The Science of Hitting. Watch Hamilton swing and notice how quiet his lower half remains through contact. He has the innate ability to stay balanced and maintain a significant amount of power behind the ball. His path to contact avoids any major parabolic detours while traveling in a straight line from point A to point B.
Because 4 HRs in a MLB game is such a rare occurrence, think Haley's Comet or Tiger Woods contending in a major, it is important to break down each of Hamilton's at bats Tuesday night to see if we can figure out just what makes the Rangers five tool superstar so good.
1st inning: Runner on first base and one out. Clean count and Orioles "ace" Jake Arrieta loops a hanging curveball over the heart of the plate which Hamilton summarily dismisses over the outstretched arms of Adam Jones as if he were sending back an undercooked ribeye . If there is such a thing as a book on Hamilton it's that he's a well known connoisseur of first pitch fastballs which is why more and more pitchers are starting him off with something offspeed. Problem is, when you leave your curveball up in the hitting zone instead of burying it below the knees you allow a slugger of Hamilton's ilk, or really any professional hitter worth their salt for that matter, to extend his arms and drive the ball deep into the outfield. 8 times out of 10 he hits that spinner from Arrieta out onto Eutaw Street.
3rd inning: With two outs and a runner on first base, Arrieta falls behind in the count 2-0 before unleashing a really tidy 93 mph two seamer which tails away from the left handed hitting Hamilton. Most batters either take the strike over the black and wait for a better pitch to hit or drop the barrel of the bat and pop the ball up to the shortstop. Unfortunately for Arrieta, Hamilton is not most batters and on this particular pitch he is able to keep his hands inside the baseball making contact deep in the zone and driving the pitch into the left field seats for an opposite field homerun. His second of the evening. Unbelievable patience and balance.
7th inning: Zach Phillips is brought in from the bullpen for the statistically favorable lefty on lefty matchup. But Josh Hamilton is not your average left handed hitting platoon player. What makes him so successful against lefty pitching is his ability to keep his front side closed and head on the ball. That and an inordinate amount of natural ability and baseball instinct. Hit it where it's pitched.  Phillips must not have been watching the first inning as he serves a 0-1 curveball that Hamilton crushes into the right/center bleachers. 3rd homer of the night for Hamilton and he is now one away from tying the record. Question is, if you're the Baltimore Orioles, how do you even let it come to that?
The Big Leagues are full of player codes and unwritten do's and don't. Don't bunt to break up a no hitter. Don't steal the catchers signs. Don't scream "I got it" to a third baseman when rounding the bases on a routine pop up. (see: ARod). Another of those unwritten rules could very well be that when opposing a player who has already hit 3 HRs in a game you must challenge them with strikes and not simply throw an unintentional intentional walk simply to avoid going down in the history books.
8th inning: So much for pitching around history.  Clearly Darren O'Day was undeterred by the record books as Hamilton drives an 83 MPH submarine ball into the center field ivy for his 4th home run of the game. O'Day was up 0-2 on Hamilton before leaving some sort of softball style changeup out over the plate. Why he even threw a strike in that situation is beyond me but poor location should not obscure what was a seminal performance by one of baseballs best. And to recap, Hamilton finishes the night 5-5 with 4 HRs, a double, and 8 RBI. Not too shabby for a player whose contract expires at the end of the 2012 season.
Speaking of Hamilton's contract status, it's really hard to imagine that the 31 year old won't be able to command the same type of payday as Prince Fielder and Albert Pujols this coming offseason. Of course, with any Hamilton contract discussion comes questions about his health and past issues with substance abuse. The Texas Rangers have continued to do right by Hamilton but I'm sure there are more than a handful of teams with the resources and support system to lure Hamilton away from Arlington. Until then, let us all just enjoy the performance of one of baseball's best.