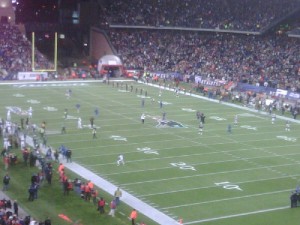 About a half hour before kickoff last night, VMS contributor and lifelong Jets fan Dave asked if we could record and later post our in game commentary. In the spirit of our friendship, and for the sake of time, I have decided not to share the details of our conversation.  Needless to say, Dave went to sleep a very, very disappointed young man. It's true pal, the final score was really 45-3.
1. New England Patriots (10-2): Pats are now undefeated, 1-0, when honoring Tedy Bruschi at halftime. Please keep this in mind Mr. Kraft.
2. Atlanta Falcons (10-2): Am I alone in thinking that Chris Berman sounds soooooo 2008 when he refers to Matt Ryan as "Matty Ice"?
3. Pittsburgh Steelers (9-3): I wonder if Al Michaels has accepted the news that Ben Roethlisberger's nose was in fact severely disfigured.
4. New Orleans Saints (9-3): When do the Saints and Falcons play each other again?
5. Chicago Bears (9-3): Is there a better home field advantage come mid/late December than Soldier Field when the Bears are winning?
6. Green Bay Packers (8-4): Anyone giving away tickets to Pack @ Gillette Stadium on 12/19?
7. Baltimore Ravens (8-4): Joe Flacco may in fact be their weak link.
8. Philadelphia Eagles (8-4): Michael Vick, most dangerous QB in the 2010 playoffs?
9. New York Jets (9-3): I'm brimming with anticipation for Mike Francesa's excoriation of Rex Ryan for his decision to challenge the spot on a 4th and 1 on the 45 yard line in the first quarter when he would eventually decide to go for it anyway.  Please don't let me down Mike!
10. Kansas City Chiefs (8-4): May as well be the Giants or Jaguars.
As always, please feel free to share your views.